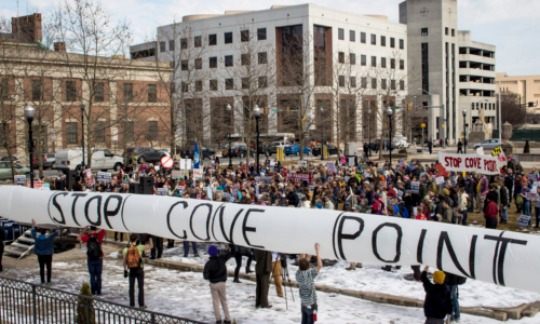 Podcast: Play in new window | Download
Subscribe: RSS
February 25, 2014 – Segment 4
It's a brand new episode of Sound Bites. First, we talk about food security among the elderly. Our guests are: Michael J. Wilson, Director of Maryland Hunger Solutions; and Shelley White, Program Coordinator for Real Food Farm in Baltimore.
Then, Sound Bites producer Stefanie Mavronis brings us a story about the "Stop Cove Point" rally that took place in downtown Baltimore last Thursday. Hundreds gathered at War Memorial Plaza while Dominion Energy, the energy group proposing the liquefied natural gas export facility, met about an essential permit it needs from the Maryland Public Service Commission for its $3.8 billion facility in Southern Maryland. We hear from: Delegate Heather Mizeur, gubernatorial candidate who spoke at the rally; Jon Kenney, Southern Maryland Organizer for the Chesapeake Climate Action Network; Jeannette Berman of CCAN; Emily Wurth, Food & Water Watch's Water Program Director; Pennsylvania activist Elizabeth Arnold; and activist Nadine Block.
Then, we hear a response from Pam Faggert, Dominion Energy's Chief Environmental Officer.
We close out this week's Sound Bites with a look at the status of the Poultry Fair Share Act in the Maryland Legislature, with: Delegate Shane Robinson, Maryland's District 39 (Montgomery County), who was the sponsor of the House version of the Poultry Fair Share Act, which he withdrew; and Senator Richard Colburn, representing District 37 (Caroline, Dorchester, Talbot & Wicomico Counties).