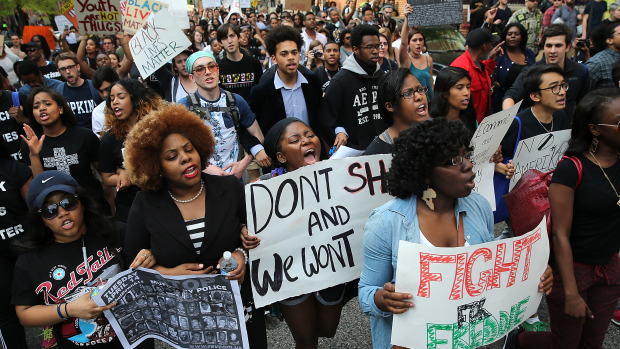 Podcast: Play in new window | Download
Subscribe: RSS
April 30, 2015 – Segment 2
We check in with spokespersons from the Ujima People's Progress Party, Maryland's first Black worker-led electoral party, who have been part of the protests and will be holding a Black Lives Matter State Conference in collaboration with Coppin State University's Urban Studies Program this Saturday (May 2) from 8:30-5:00. With: Nnamdi Lumumba, State Chairperson at Ujima People's Progress Party; and Dr. Kenneth O. Morgan, Assistant Professor/Coordinator of the Urban Studies Program in the Department of Criminal Justice and Applied Social and Political Sciences at Coppin State University.
The Black Lives Matter State Conference will be held Saturday May 2, at the Coppin State University Health and Human Services Building, Room 103, from 8:30am – 5:00pm.
Then, we continue our conversations and analysis of the ongoing protests in Baltimore following the death of Freddie Gray. You will hear from: Dr. Lawrence Brown, public health consultant and Assistant Professor of Public Health in the School of Community Health and Policy at Morgan State University; Dr. Karsonya "Kaye" Whitehead, Assistant Professor of Communication and Affiliate Assistant Professor of African and African American Studies at Loyola University Maryland; Baltimore City Councilman Carl Stokes; and journalist Shawn Carrie, who was arrested during Monday's protests and released from jail last night.
We close out the show with a special report from The Nation magazine's Sports Editor Dave Zirin, who joins us to talk about the protests and the strange Orioles game last night: the first Major League Baseball game in history to be closed to the public and played in an empty stadium.