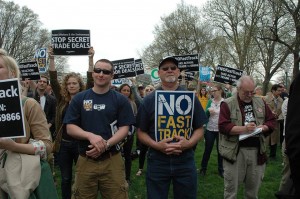 Podcast: Play in new window | Download
Subscribe: RSS
July 2, 2015 – Segment 4
On the newest episode of our series on our food and our world, Sound Bites, we bring you the second part of our Good Food Gathering town hall meeting held June 16 in partnership with Hopkins' Baltimore Food and Faith Project, titled Sandtown: Building a Model for Food and Jobs. The town hall took place at Jubilee Arts, located in the Sandtown Winchester neighborhood of Baltimore, which was at the center of the Baltimore uprising and was the neighborhood where Freddie Gray lived and was arrested.
Marc sat down with three members of the faith community who are working on food and employment issues in interesting and effective ways: Elder C.W. Harris of Strength to Love II Farm and Newborn Holistic Ministries;  Antoine Bennet of New Song Community Church; and Melissa Kelly of the No Boundaries Coalition.
Then Marc talks to Mitch Jones, Senior Policy Advocate for Food & Water Watch, about what the passing of Fast Track trade authority will mean for our food and the environment.