Podcast: Play in new window | Download
Subscribe: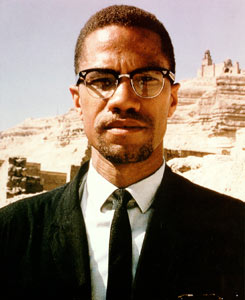 Malcolm X would have turned eighty-five today.  Forty-five years have passed since he was killed.  What is his legacy today?  Writer and political analyst Dedrick Muhammad joins Marc to co-host this hour.
First, we speak with one of Malcolm's six daughters, Ilyasa Shabazz.  Next, we're joined by Minister Akbar Muhammad, who has been a top aide to Minister Louis Farrakhan since 1965, and Amina Wadud, Islamic feminist and scholar.  Then, we'll talk with Lalit Clarkson, a member of the Malcolm X Grassroots Movement, and Omari Musa, member of the Socialist Workers Party.