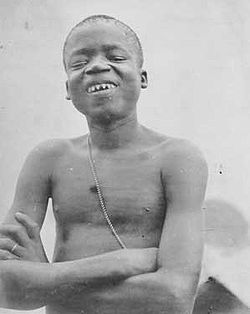 Podcast: Play in new window | Download
Subscribe: RSS
March 20, 2015 – Segment 1
Marc shares some of the events that happened on this day in history, including the births of Spike Lee and Sister Rosetta Tharpe and the suicide of Ota Benga.
School Daze
That's a scene from the Spike Lee film School Daze. This is the birthday of Spike Lee born in 1957: Spike Lee was and is a groundbreaking filmmaker. His first full featured films  in the 1980's,,  She's Gotta Have It, School Days and Do The RIght Thing broke down the door to open the way for Black creative talent in Hollywood along with his masterpiece Malcolm – Happy Birthday Spike.
Ota Benga was a Mbuti man from the Congo.  While he was out hunting his family was killed by the Belgians trying force people into slave labor,  he was captured, sold into slavery and  in 1904  an American took him to the world's fair to be put on display as a non evolved species and later to live in a monkey house in a zoo.  On this day in 1916  Ota Benga far from his home found a gun and, committed suicide.
Dr. Ralph Bunche receives the Nobel Peace Prize in 1950 for his work as a United Nations  mediator for bringing about an end to hostilities between Israelis and Arabs &  Palestinians after the 1948 war, that on side called a War of Liberation and the other Nakba or Catastrophe. Ralph Bunche was the first African American to be so honored.
On this day in 1852, Martin R. Delany published a book entitled  The Condition, Elevation, Emigration and Destiny of the Colored People of the United States;  Martin Delany is considered the father of Black nationalism. with the publication of this book. He was born to enslaved father, his mother was free.  He went to Harvard Medical School but along with the two other Black students was forced to leave.  He treated cholera victims in Pittsburgh, help Frederick Douglass publish the North Star and became the first Black officer in the civil war.  He believed that Black people could not be part of this nation and be free.  He famously said  "The claims of no people, according to established policy and usage, are respected by any nation, until they are presented in a national capacity." He added: "We are a nation within a nation; as the Poles in Russia, the Hungarians in Austria, the Welsh, Irish, and Scotch in the British dominions."
Today in 1850 is also the day that Harriet Beecher Stowe's Uncle Tom's Cabin was published, heralded by many abolitionists, it sold over 300,000 copies in it's first printing and is credited with turning minds of many Americans over the issue of slavery, however in response to Uncle Tom's Cabin,   Martin Delany wrote  a serial novel about a wandering insurrectionist called Huts in America in response to her portrayal of slavery and Black people that many now see as the most accurate fictional account of slave life.
Here's a song to think about on March 20th.  It's by a musician who's been called the Godmother of Rock and Roll. She was a pioneer of the electric guitar and played an innovative blend of gospel and blues. The track we're hearing now was recorded in 1945 and was the first gospel song to cross over to the pop music crowd, hitting number two on Billboard's "race records" chart, which was later known as the r&b chart. The song is Strange Things Happen Every Day, and the artist is Sister Rosetta Tharpe, who was born one hundred years ago today.
Sister Rosetta Tharpe- Strange Things Happening Every
https://www.youtube.com/watch?v=CzVt-aXAxNI