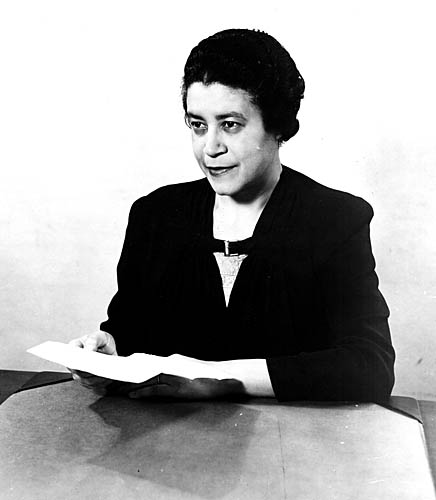 Podcast: Play in new window | Download
Subscribe: RSS
January 28, 2014 – Segment 1
Marc shares some of what happened on this day in history, including the day Zora Neale Hurston died, the date the Free Africa Society was organized in Philadelphia, and the day the first African-American state legislator was elected, Crystal Bird Fauset.
Today is:
Data Privacy Day is an international holiday that occurs every January 28.[1] The purpose of Data Privacy Day is to raise awareness and promote data privacy education. It is currently 'celebrated' in the United States, Canada, and 27 European countries. In Europe this holiday is referred to as Data Protection Day.
On this day in history:
1573 – Articles of the Warsaw Confederation are signed, sanctioning freedom of religion in Poland.
1624 – Sir Thomas Warner founds the first British colony in the Caribbean, on the island of Saint Kitts.
1754 – Horace Walpole coins the word serendipity in a letter to Horace Mann.
1787 – Free Africa Society organized in Philadelphia.
1833: Today, a CHEROKEE commission of John Ross, John Baldridge, Richard Taylor, and Joseph Vann, address the Secretary of War in Washington, D.C.. They again state their unwillingness to negotiate with the federal government about removal, while the federal government is not living up to its previous agreements to protect them from the illegal actions of the State of Georgia. The CHEROKEEs are told their only hope is for removal. During subsequent discussions, President Jackson offers the eastern CHEROKEEs 3 million dollars for all of the lands east of the Mississippi River, excluding North Carolina. John Ross asks the President how he will be able to protect the CHEROKEEs in Indian Territory, if he cannot protect them from Georgia. The commission feels that the gold mines on CHEROKEE lands are worth more than the President's offer.
1854: In Oregon, 30 miners attack a peaceful Indian village on the Coquille River. Sixteen Indians are killed.
1861: American Miners' Association formed
1896 – Walter Arnold of East Peckham, Kent becomes the first person to be convicted of speeding. He was fined 1 shilling, plus costs, for speeding at 8 mph (13 km/h), thus exceeding the contemporary speed limit of 2 mph (3.2 km/h).
1908, author and activist Julia Ward Howe, famous for her composition, "The Battle Hymn of the Republic," became the first woman elected to the American Academy of Arts and Letters.
1908 – Members of the Portuguese Republican Party fail in their attempted coup d'état against the administrative dictatorship of Prime Minister João Franco.
1909 – United States troops leave Cuba with the exception of Guantanamo Bay Naval Base after being there since the Spanish–American War.
1915 – An act of the U.S. Congress creates the United States Coast Guard as a branch of the United States Armed Forces.
1917 : US forces give up searching for Mexican revolutionary Pancho Villa after nearly one year, following his massacre of 16 U.S. citizens at Santa Isabel in northern Mexico and 17 American Citizens in Columbus, New Mexico President Wilson had sent US forces into Mexico with orders to capture Villa dead or alive.
1917 – Municipally-owned streetcars take to the streets of San Francisco.
1918 – Finnish Civil War: Rebels seize control of the capital, Helsinki, and members of the Senate of Finland go underground.
1922 – Knickerbocker Storm, Washington D.C.'s biggest snowfall, causes the city's greatest loss of life when the roof of the Knickerbocker Theatre collapses.
1932 : Japan began it's bombing and reoccupation of Shanghai, China
1932: First U.S. unemployment compensation law enacted, in Wisconsin
1934 – The first ski tow in the United States begins operation in Vermont.
1935 – Iceland becomes the first Western country to legalize therapeutic abortion.
1938 – Crystal Byrd Fauset was elected to the Pennsylvania House of Representatives.
1942 – Five power stations are blown up by pro-Axis saboteurs in an attempt to destabilise the Rand gold mines.
1956 : The young country rock singer Elvis Presley makes his first ever television appearance on Television in the musical variety program Stage Show singing "Heartbreak Hotel"
1963 – Harvey B. Gantt enrolled in Clemson University on this date in 1963; breaking segregation in South Carolina, the last state to integrate.  Gantt would later become mayor of Charlotte, NC, and a state senatorial candidate.
1964 : Tension levels had risen between the U.S. and the Soviet Union dramatically during this time in history. On this day, a U.S. jet was shot down by Soviet troops. The jet was pulling into an East German airbase at the time that it had happened.
1968 : A radiation alert is issued following B-52 bomber armed with four hydrogen bombs crashes near the Arctic air base of Thule in Greenland. After the bombs were found it took nine months to remove all the contaminated material including snow from the crash site.
1970 – Cairo suburbs are attacked by Israeli jet fighters.
1970 – Arthur Ashe, first Black male to win Wimbledon, was denied a visa by South Africa to compete on the U.S. Team for the South African Open tennis championships on this date in 1970.  Ashe's denial was due to his sentiments on South Africa's racial policies.
1978, The Fleetwood Mac album 'Rumours' went to No.1 on the UK album chart, also a No.1 in the US. The album went on to sell over 15 million copies world- wide and spent over 440 weeks on the UK chart.
1981 – Ronald Reagan lifts remaining domestic petroleum price and allocation controls in the United States helping to end the 1979 energy crisis and begin the 1980s oil glut.
1984, Frankie Goes To Hollywood started a five-week run at No.1 on the UK singles chart with 'Relax!' BBC Radio 1 DJ Mike Read expressed on air his distaste for both the record's suggestive sleeve and its lyrics, he announced his refusal to play the record, not knowing that the BBC had decided that the song was not to be played on the BBC anyway. Produced by Trevor Horn the song remained on the chart for 48 weeks.
1988, Eleven years after it was released, The Sex Pistols album 'Never Mind The Bollocks, Here's The Sex Pistols' went Gold in the US with sales over 500,000.
1988 – In R. v. Morgentaler the Supreme Court of Canada strikes down all anti-abortion laws, effectively allowing abortions in Canada in all 9 months of pregnancy.
1989 – After 62 years of racial caricatures, Colgate-Palmolive Co. redesigned packaging for its "Darkie" toothpaste sold in Asia. The logo for the toothpaste, previoulsy a black face sambo character named "Darkie," was renamed "Darlie" and replaced with a silhouette.
1990, Paul Abdul started a 10-week run at No.1 on the US album chart with 'Forever Your Girl'. Abdul spent sixty-four consecutive weeks on the Billboard 200 before hitting number one, making it the longest time for an album to reach the number one spot.
1993 – Troops in Zaire run riot, killing the French Ambassador.
1994 – Matthew Henson receives a joint medal from Congress as codiscoverer of the North Pole.
1995, TLC started a four week run at No.1 on the US singles chart with 'Creep' the group's first US No.1, it made No.6 in the UK the following year.
1997 – At South Africa's Truth Commission, police confessed to the 1977 murder of Steve Biko.
2007, Dreamgirls: Music from the Motion Picture was at No.1 on the US album chart. The musical based on the history of Diana Ross and the Supremes featured Jamie Foxx, Beyonce Knowles, Eddie Murphy, Jennifer Hudson, Anika Noni Rose and Keith Robinson.
2008 – Barack Obama was endorsed by Senator Ted Kennedy, on this date in 2008.  Senator Kennedy quotes his brother, President John F. Kennedy, saying: "The world is changing.  The old ways will not do.  It is time for a new generation of leadership."
2011 : Anti-government protests, inspired by those in Tunisia, continue in Egypt. As protestors demanded resignation of President Mubarak and an end to corruption, Egyptian authorities used force to take control of the situation. However, this increase in force only intensified anti-government sentiment.
Born on this day in history:
1853 – José Martí, Cuban journalist, poet, and theorist (d. 1895)
1862 – Hannah Bachman Einstein (28 January 1862 in New York City – 28 November 1929) was an American Jewish social worker and activist who was instrumental in the establishment of child welfare boards in the United States.
1873 – Colette – Colette married Henri Gauthier-Villars, a writer and critic, in 1920. He published her first novels, the Claudine series, under his own pen name.
1927, Born on this day, Ronnie Scott, jazz musician. Formed his own nine-piece group in 1953 and opened the first Ronnie Scott's night club in London in 1959 where he presented the cream of the world's jazz musicians at the club. He died on December 23rd 1996.
1933: Susan Sontag born
1941, Born on this day, King Tubby, reggae producer who has worked with Robbie Shakespeare, Sly Dunbar and Carlton Barrett. He was killed on 6th February 1989 after being shot in the street outside his home.
1943, Born on this day, Dick Taylor, guitarist and singer with The Pretty Things who had the 1964 UK No.10 single 'Don't Bring Me Down'.
1946, Born on this day, Rick Allen, bassist with The Box Tops who had the 1967 US No.1 & UK No.5 single 'The Letter'.
1951, Born on this day, William Nelson from Funkadelic who had the 1978 US No.16 album 'One Nation Under A Groove'.
1980 – Michael Hastings, American journalist (d. 2013)
On this day in history, we lost:
1547: Henry VIII died, succeeded by son Edward VI, briefly by grand-niece Lady Jane Grey , then by daughter Mary and later by daughter Elizabeth
1939 – W. B. Yeats, Irish poet, Nobel Prize laureate (b. 1865)
1960 – Zora Neale Hurston, famed author, died in Durham, NC, on this date in 1960.  Hurston is widely known for her contribution to the "Harlem Renaissance."
1986 : The space shuttle Challenger explodes just after liftoff , killing the seven astronauts aboard, this was the 10th trip for Challenger and included a teacher from New Hampshire, Christa MacAuliffe, among the astronauts, as part of a new Teacher in Space project. The Launch was shown live on CNN and many schools set up televisions for children to watch due to the involvement of a teacher in the shuttle. Other crew members aboard the Challenger ship included Michael J. Smith, Dick Scobee, and Ronald McNair, as well as Ellison Onizuka, Christa McAuliffe, Gregory Jarvis, and Judith Resnik. A warning was ignored that certain equipment on the ship was vulnerable at new temperatures. // Black physicist, Ronald McNair, and six other astronauts were killed when the Space Shuttle Challenger exploded shortly after lift-off on this date in 1986. // First women killed in the US space program (Judith Resnick, Christa McAuliffe) as Challenger explodes, killing all seven aboard
1996 – Jerry Siegel, American writer and illustrator, co-created Superman (b. 1914)
2000, Saxophonist and bandleader Thomas 'Beans' Bowles died of prostate cancer aged 73. Played on many Motown sessions including Marvin Gaye's, 'What's Going On', Martha and the Vandellas' 'Heat Wave' and The Supremes 'Baby Love' and wrote the melody on Stevie Wonder's 'Fingertips Pt. 2.'
Sources: The People History; Wikipedia List of Historical Anniversaries; This Day in Women's History; This Day in Jewish History; This Day in African History;History.com; History Orb; Yenoba; Phil Konstantin's North American Indian History; and This Day in Music