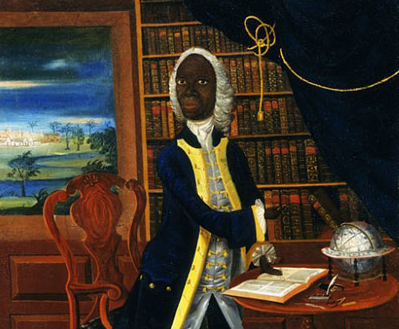 Podcast: Play in new window | Download
Subscribe: RSS
April 17, 2014 – Segment 1
Marc talks about what happened on this day in history, including the day Reggae drummer Carlton Barrett of The Wailers was shot dead, the day Geoffrey Chaucer tells the Canterbury Tales for the first time, and the day the first U.S. Black college graduate published a poem book in Latin.
EVENTS
1397 – Geoffrey Chaucer tells the Canterbury Tales for the first time at the court of Richard II. Chaucer scholars have also identified this date (in 1387) as the start of the book's pilgrimage to Canterbury.
1492 – Spain and Christopher Columbus sign the Capitulations of Santa Fe for his voyage to Asia to acquire spices.
1521 – Trial of Martin Luther over his teachings begins during the assembly of the Diet of Worms. Initially intimidated, he asks for time to reflect before answering and is given a stay of one day.
1758 – Francis Williams, first U.S. Black college graduate, publishes a poem book in Latin.
1872 – Activist William Trotter born Wiliam Monroe Trotter, crusader for full equality, publisher of "The Boston Guardian," co-founder of the Niagra Movement and close friend of W.E.B. Dubois, was born in Boston, Massachusetts. Trotter led a protest against the showing of the racist film "Birth of a Nation" and was in opposition to Booker T. Washington.
1907 – The Ellis Island immigration center processes 11,747 people, more than on any other day.
1944 – Forces of the Communist-controlled Greek People's Liberation Army attack the smaller National and Social Liberation resistance group, which surrenders. Its leader Dimitrios Psarros is murdered.
1946 – Syria obtains its Independence from the French occupation.
1949 – At midnight 26 Irish counties officially leave the British Commonwealth. A 21-gun salute on O'Connell Bridge, Dublin, ushers in the Republic of Ireland.
1961 – Bay of Pigs Invasion: A group of Cuban exiles financed and trained by the CIA lands at the Bay of Pigs in Cuba with the aim of ousting Fidel Castro.
1964 – Jerrie Mock becomes the first woman to circumnavigate the world by air.
1969 – Sirhan Sirhan is convicted of assassinating Robert F. Kennedy.
1969 – Czechoslovakian Communist Party chairman Alexander Dubček is deposed.
1970, While performing at the White House at the invitation of President Richard Nixon, Johnny Cash was asked to perform "Okie From Muskogee". Cash declined because it was not his song, but had been a hit for Merle Haggard. Instead, Cash sang his No.1 hit, 'A Boy Named Sue'.
1970 – Apollo program: The ill-fated Apollo 13 spacecraft returns to Earth safely.
1973 – Pink Floyd's album 'The Dark Side of the Moon' went gold in the US. The LP went on to stay in the US chart for more than ten years and became the longest charting rock record of all time.
1975 – The Cambodian Civil War ends. The Khmer Rouge captures the capital Phnom Penh and Cambodian government forces surrender.
1990 – Playwright August Wilson wins Pulitzer Prize Playwright August Wilson won his second Pulitzer Prize for drama with the play "The Piano Lesson."
2013 – An explosion at a fertilizer plant in the city of West, Texas, kills 15 people and injures 160 others.
BIRTHS
1756 – Dheeran Chinnamalai, Indian activist (d. 1805)
1837 – J. P. Morgan, American banker and financier, founded J.P. Morgan & Co. (d. 1913)
1897 – Thornton Wilder, American author and playwright (d. 1975)
1915 – Regina Ghazaryan, Armenian painter and public figure (d. 1999)
1918 – William Holden, American actor (d. 1981)
1928 – Cynthia Ozick, American author
1955 – Pete Shelley, English singer-songwriter and guitarist (Buzzcocks)
1957 – Nick Hornby, English author and screenwriter
1964 – Maynard James Keenan, American singer-songwriter and producer (Tool)
1970 – Redman, American rapper, producer, and actor (Def Squad and Method Man & Redman)
DEATHS
1790 – Benjamin Franklin, American inventor, publisher, and politician, 6th President of Pennsylvania (b. 1706)
1960 – Eddie Cochran, American singer-songwriter and guitarist (b. 1938)
1987 – Reggae drummer and percussion player Carlton Barrett of The Wailers was shot dead outside his house in Kingston, Jamaica. Joined Bob Marley and The Wailers in 1970, wrote the Marley song 'War'. Barrett was the originator of the one-drop rhythm, a percussive drumming style.
1990 – Rev. Ralph David Abernathy, keystone of the Southern Christian Leadership Conference and aide to Dr. Martin Luther King, died of heart failure.
1997 – Chaim Herzog, Irish-Israeli soldier, lawyer, and politician, 6th President of Israel (b. 1918)
1998 – Linda McCartney, American singer-songwriter, photographer, and activist (Wings) (b. 1941)
2003 – John Paul Getty, Jr., American-English philanthropist (b. 1932)
Sources: The People History; This Day in Labor History; Wikipedia List of Historical Anniversaries; This Day in Women's History; This Day in African History;History.com; History Orb; Yenoba; Selected Black Facts; Phil Konstantin's North American Indian History; and This Day in Music