Podcast: Play in new window | Download
Subscribe:
October 12, 2016 – Segment 2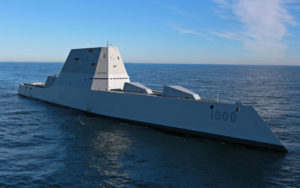 We bring you a preview of a Baltimore Fleet Week event: the commissioning of the Guided Missile Destroyer DDG 1000, on Saturday, October 15. The DDG 1000 will be named in honor of Admiral Elmo Russell "Bud" Zumwalt, Jr. USN (1920-2000). When Bud Zumwalt assumed office as Chief of Naval Operations in 1971, there were no African-American or woman flag officers in the U.S. Navy, and he completely changed this racist and sexist culture. With: The Honorable Carlos C. Campbell, former Naval aviator and former Assistant Secretary of Commerce for Economic Development in the U.S. Department of Commerce.