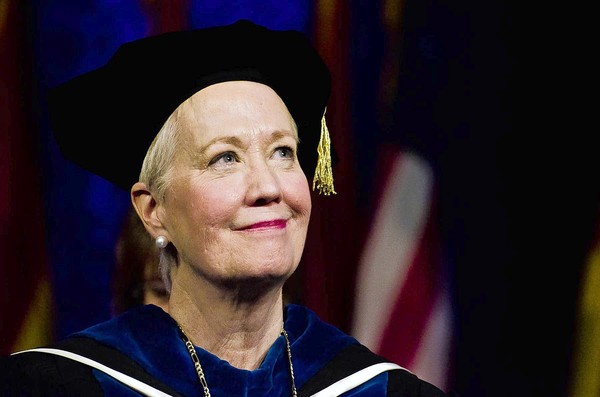 Podcast: Play in new window | Download
Subscribe: RSS
March 28, 2013 – Segment 1
Just days after her inaugural address as President of Towson University, Dr. Maravene Loeschke found herself addressing students, faculty, and staff on issues of a serious and immediate significance; issues that have pushed Towson University into public scrutiny and controversy in the past year.
There were rumors of a racist group who claimed to be a part of the university and threatened to participate in aggressive vigilante actions on campus. The Students and staff and the neighboring communities paid close attention to how Towson could maintain a balance between students' rights to free speech and encouraging an atmosphere of respect and diversity on campus. Amidst these pressures, Dr. Loeschke and an appointed task force had to work to address and resolve problems surrounding the athletics program; including the possibility of cutting men's sports.
In recent years Towson's athletics program has fallen out of compliance with federal law and Title IX responsibilities. The university failed to adjust its funding for women's sports which is to be maintained in proportion to the female student population. The university's funding remains at about 52 percent while the percentage of female students has grown to about 60 percent. A terrible truth is that Towson cannot afford to support its current 20 teams. Dr. Loeschke had to look at the long term financial stability of the university and the possibility of keeping the sports teams competitive; especially basketball and football which generate enough revenues to finance most of the other athletics on campus. In the end the decision was made to cut men's soccer and baseball, something Loeschke admits, was the hardest decision she has ever had to make.
From the Discussion
Cutting Men's Soccer and Basketball
"There is a fiscal reality. Do you have enough money to support that many teams or don't you? And we don't."
The White Student Union
"They are in my opinion a racist group and promote white supremacy and truly are engaged in disruption of the campus on those issues."
Maintaining Diversity and Students' Rights
"We were able to come together as a campus and set forums for discussion…[They] are continuing and it allows students to come up with alternative ways of dealing with that kind of confrontation, sometimes fear…feelings of disrespect."
The expansion of Towson
"There is an opportunity to determine what you have to stop doing. It's an opportunity to stop and say, 'Is everything we've always been doing, still a part of our mission and still where we are going?'"
Towson University's Larger Role
"A quarter of Maryland's teachers come from Towson. We supply the second largest number of nurses. We have the largest undergraduate business major in the state. We're very big in STEM…"