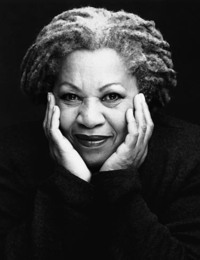 Podcast: Play in new window | Download
Subscribe: RSS
October 7, 2014 – Segment 1
Marc shares some of the events that happened on this day in history, including the discover of Matthew Shepard's body, a gay man who was beaten to death in Laramie, Wyoming, the birth of anarchist singer and activist Joe Hill, and Toni Morrison becoming the first African American to win the Nobel Prize in Literature.
On this day, 
1763 – King George III of Great Britain issues British Royal Proclamation of 1763, closing aboriginal lands north and west of the Alleghenies to white settlements.  The document acknowledged Native American landownership and it was henceforth deemed illegal for whites to settle on these lands (save for those with special license).
 1826 – On this day the Granite Railway begins operation as Americas first railway.  The Granite Railway was constructed in Quincy Massachusetts and ran the distance of about 4 miles between the quarry and the Neponset River.  The idea of using rails as a means of transport was met with much skepticism, but the project was eventually given the funding it needed to begin construction.  Gridley Bryant was the master engineer behind the project, building on designs from England, to allow for heavier more concentrated loads.  Unlike the rails in Liverpool the Granite Railway ran on horsepower rather than steam locomotives.  The cost of the construction was under $50,000.
1862 – Royal Columbian Hospital opens as the first hospital in the Canadian province of British Columbia
1919 – KLM, of the Netherlands is founded and is the oldest airline still operating under its original name
1933 – Air France is inaugurated, after being formed by a merger of 5 French airlines
1940 – McCollum memo proposes bringing the US into the war in Europe by provoking the Japanese to attack the United States.  The memo was written by Lieutenant Commander Arthur McCollum of Naval Intelligence and was sent to two of Roosevelt's military advisors, Captain Walter Anderson and Dudley Knox.  The memo outlined an eight step plan to provoke the Japanese into an attack on the US as a means to the US to enter World War II. 1. Arrange the use of British Bases in the Pacific, particularly Singapore; 2. An arrangement with Holland to use base facilities in the Dutch East Indies; 3. Provide any possible to the Chinese government of Chiang-Kai-Shek; 4. Send long range heavy cruisers to the orient particularly, the Philippines and Singapore; 5. Send 2 Sub Divisions to the Orient; 6.  Keep the main strength of the US fleet in Pacific in the vicinity of the Hawaiian Islands. 7. Insist the Dutch refuse to grant Japanese demands for undue economic concessions particularly oil; 8. Embargo all US trade with Japan in collaboration with similar embargo imposed by the British Empire.  The White House refutes any allegation that Roosevelt ever laid eyes on the memo, even though the actions he took in the Pacific leading up to Pearl Harbor were very similar to those Lt. Cmdr. McCollum laid out in in the 1940memo.
1944 – A carefully planned revolt and escape attempt by the 12thSonderkommando of Birkenau was executed on this day in 1944.  The revolt began at 3pm and a brief battle between the Sonderkommando began.  The prisoners were armed with crude grenades made with gunpowder that was smuggled in by the women prisoners and handmade knives and axes.  With the grenades the Sonderkommando destroyed crematoria 4, but the revolt was quickly brought to an end by SS guards armed with machine guns.  All of the 12th Sonderkommando (roughly 400 men) were killed by the German SS. Auschwitz II Birkenau Sonderkommando Testimony Clips  (min 19:08)
1949 – The German Democratic Republic (communist, East Germany) is formed
1955 – American poet Allen Ginsberg performs Howl for the first time at the Six Gallery in San Francisco
1960 – Nigeria joins the United nations
1963 – John F. Kennedy signs the ratification of the Partial Test Ban Treatywhich prohibited the testing of all nuclear weapons except underground.  The treaty was an attempt to slow down the arms race and stop the excessive release of nuclear fallout into the atmosphere. The treaty was signed by the United States, Great Britain and the USSR.
1985 – Palestinian gunmen hijacked the Italian cruise ship Achille Lauro in the Mediterranean
1987 – Sikh nationalists declares the independence of Khalistan from India; it is not internationally recognized
1993 – Toni Morrison became the first African American to win the Nobel Prize in Literature.  Morrison was born in Lorain, Ohio in 1931.  She received her bachelors in English from Howard University in 1953 and her Masters in English from Cornell in 1955.  Morrison worked as trade book editor at Random house in NYC and went on to be named Robert F. Gohen Professor in the Humanities council at Princeton.  Her announcement as Nobel Prize winner was seen as a shock as though her work was celebrated it had not garnered the type of acclaim her contemporaries believed it deserved.  Her 1987 novel, Beloved was a critical success and its failure to receive a National Book Award resulted in protests by 48 black authors and critic in support of Morrison and her work.  http://en.wikipedia.org/wiki/Toni_Morrison
1996 – Fox News Channel begins broadcasting
1998 – Matthew Shepard, a gay student at the University of Wyoming is found tied to a fence after being savagely beaten by two young adults in Laramie, Wyoming
2003 – Recall election takes place in California in which sitting Governor, Democrat Gray Davis, is overwhelmingly voted out of office and Actor Arnold Schwarzenegger is elected to be the 38th Governor of California.
2012 – Andrew Felton Brimmer, economist, academic and the first African American to serve as governor of the Federal Reserve System dies.  He was born September 13, 1926 in Louisiana.  After serving in the army Brimmerwent on to receive his BA and MA of arts from the University of Washington and a Ph.d from Harvard.  Appointed by LBJ to sit on the Board of Governors of the Federal Reserve in 1966.  http://www.blackpast.org/aah/brimmer-andrew-f-1926
13 BC – Drusus Julius Caesar, Roman son of Tiberius (d. AD 23)
1576 – John Marston, English Poet and Playwright
1769 – Solomon Sibley, American lawyer, and politician, 1st Mayor of Detorit
1821 – William Still, abolitionist, agent of the Underground Railroad, writer,historian and businessman, was born in Burlington County, New Jersey in 1821 to Levin and Charity Still, both former slaves. Still taught himself to read and write and published pamphlets calling for the end of slavery in the United States.  He assisted in helping hundreds of enslaved blacks escape from slavery, including his brother Peter, whom he found after searching for forty years. He is often cited as the father of the Underground rail road and is credited also with the establishment of an orphanages for black youth and the first YMCA for blacks. http://stillfamily.library.temple.edu/historical-perspective/william-still-significance
1857 – Moses Fleetwood Walker, the first African American to play major league baseball, was born in Mount Pleasant, Ohio.  Walker played for Oberlin college in 1881 and the University of Michigan in 1882 &1883.  He made his debut in the Major Leagues in 1884 and played for many clubs until 1889.  In April 1891, Walker was attacked by a group of men in Syracuse, New York.    During the scuffle, he stabbed one of his assailants in the thigh and the resulting wound proved fatal.  Walker was arrested and charged with Second degree murder; he was acquitted in June of 1891.  Moses Fleetwood walker became a supporter of Black nationalism and spoke out against racial integration.  He believed that African Americans should emigrate back to Africa and wrote a pamphlet in 1908 entitled "Our Home Colony: A Treatise on the Past, Present and Future of the Negro Race in America."
1879 – Joe Hill, musician, poet and activist (d.1915)
1891 – Archibald John Motley, Jr. painter, ceramist and sculptor was born in New Orleans, Louisiana.
1893 – Alice Dalgliesh, Trinidadian -American author and publisher
1897 – Elijah Poole, religious leader, activist, black nationalist, leader of the Nation of Islam was born on this day in Sandersville, Georgia.  The son of a preacher Elijah fell in love with theology at an early age.  His formal education was brief and it is believed that he left school around the 5th grade to work in the fields to help support his family.  During his childhood years in Georgia, Poole bore witness the savage injustices and violence that black to which blacks were subjected.  He bore witness to lynching's and suffered indignity at the hand of white employers. As the economic depression and Jim Crow loomed over the south in the early 20th century, African Americans looked north to find jobs in industry and a chance at a better life for their children.   Poole migrated north with his wife, parents and siblings in 1923 and settled in Michigan.  There he met Wallace Fard and joined the Nation of Islam in 1931.  After the disappearance of Fard in 1934 Elijah Mohammad moved to Chicago and established the Temple of Islam No.2 as the new headquarters of the Nation of Islam.  Under his stewardship membership of the Nation of Islam grew from a few dozen to thousands.  He was mentor to Malcolm X, Mohammad Ali and Louis Farrakhan.  http://en.wikipedia.org/wiki/Elijah_Muhammad
1900 – Heinrich Himmler, Nazi commander and commander of the SS.  Leader within the Nazi party and overseer of the implementation of the "Final Solution", including building of ghettos and camps, deportation and liquidation of citizen from ghettos.
1931 – Desmond Mpilo Tutu, South African cleric, activist and author, born on this day in Klerksdorp, Transvaal South Africa and graduated from Johannesburg Bantu High School.  He dreamed of becoming but as he was not able to afford the school fees he pursued a career as a teacher instead.  Frustrations of teaching within the limitations of Bantu guidelines, underfunding and discrimination led Tutu to quit teaching.  Tutu pursued a life in the church and became a priest in 1962.He went to study for his MA in Theology at Kings College in London,1966.  In 1975 he became the first black person appointed Anglican Dean of Johannesburg, in 1975.  From the pulpit he spoke out against the horrors of apartheid and called for an end to the unjust and brutal system. He received international recognition after receiving the NobelPeace prize in 1984 "not only as a gesture of support to him and to the South African Council of Churches of which he is leader, but also to all individuals and groups in South Africa who, with their concern for human dignity, fraternity and democracy, incite the admiration of the world."http://www.biography.com/people/desmond-tutu-9512516#rise-to-prominence
1934 – Amiri Baraka, poet, playwright, essayist and novelist; born EverettLeRoi Jones in Newark, NJ
1944 – Donald Tsang, Chinese politician, 2nd Chief Executive of Hong Kong
1935 – Thomas Keneally, Australian author and playwright
1952 – Vladimir Putin, Russian colonel and politician, 4th President of Russia
1954 – Joaquim Bendito Barbosa Gomes, the first Black Chief Justice of the Supreme Court of Brazil was born in Minas Gerais, Brazil
1973 – Sammi Hyypia, Finnish footballer and manger
1792 – Geroge Mason, politician, represented Virginia alongside James Madison at the U.S. Constitutional Convention; one of the Founding Fathers of the United States.
1796 – Thomas Reid, Scottish philospher
1849 – Edgar Allan Poe, American author and poet, (b. 1809)
1988 – William Boone "Billy" Daniels, vocalist and Broadway actor died
2003 – Wally George, American talk show host
2012 – Andrew Felton Brimmer, economist, academic, and the first African American to serve as governor of the Federal Reserve System, died.