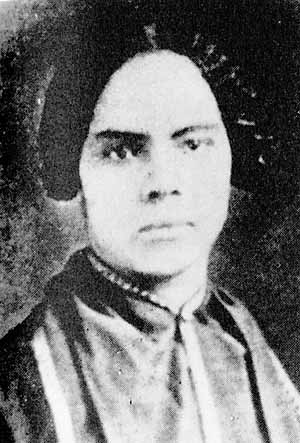 Podcast: Play in new window | Download
Subscribe: RSS
October 9, 2013 – Segment 1
Marc shares some of what happened on this day in history, including the birthday of Mary Ann Shadd, publisher of Canada's first antislavery newspaper, The Provincial Freeman, and the first woman in North American to publish and edit a newspaper.
---
BIRTHDAYS
1823 – Mary Ann Shadd, publisher of Canada's first antislavery newspaper, The Provincial Freeman and the first woman in North American to publish and edit a newspaper, born.
1859 – Alfred Dreyfus, French military officer (d. 1935)
1940 – John Lennon, English singer-songwriter, musician, and producer (The Beatles, The Quarrymen, Plastic Ono Band, and The Dirty Mac) (d. 1980)
1941 – Brian Lamb, American broadcaster, founded C-SPAN
1941 – Trent Lott, American politician
1948 – Jackson Browne, German-American singer-songwriter and guitarist (Nitty Gritty Dirt Band)
1948 – Dave Samuels, American vibraphone player (Caribbean Jazz Project)
1957 – Ini Kamoze, Jamaican singer-songwriter
1964 – Guillermo del Toro, Mexican director
1966 – David Cameron, English politician, Prime Minister of the United Kingdom
1968 – Troy Davis, an American man convicted of and executed for the August 19, 1989, murder of police officer Mark MacPhail in Savannah, Georgia. avis maintained his innocence up to his execution. In the 20 years between his conviction and execution, Davis and his defenders secured support from the public, celebrities, and human rights groups. Amnesty International and other groups such as National Association for the Advancement of Colored People took up Davis's cause. (d. 2011)
1969 – PJ Harvey, English singer-songwriter, guitarist, and producer
1975 – Sean Lennon, American singer-songwriter, guitarist, producer, and actor (The Ghost of a Saber Tooth Tiger, Plastic Ono Band, and Cibo Matto)
DEATHS
1806 – Benjamin Banneker (November 9, 1731 – October 9, 1806) was a free African American scientist, surveyor, almanac author and farmer.
1967 – Joseph Pilates, German physical culturist and developer of Pilates (b. 1883)
1974 – Oskar Schindler, Austro-Hungarian businessman (b. 1908)
1978 – Jacques Brel, Belgian singer-songwriter and actor (b. 1929)
2004 – Jacques Derrida, French philosopher (b. 1930)
EVENTS
1582 – Because of the implementation of the Gregorian calendar, this day does not exist in this year in Italy, Poland, Portugal and Spain.
1604 – Supernova 1604, the most recent supernova to be observed in the Milky Way.
1635 – Founder of Rhode Island Roger Williams is banished from the Massachusetts Bay Colony as a religious dissident after he speaks out against punishments for religious offenses and giving away Native American land.
1701 – The Collegiate School of Connecticut (later renamed Yale University) is chartered in Old Saybrook, Connecticut.
1740 – Dutch colonists and various slave groups begin massacring ethnic Chinese in Batavia, eventually killing 10,000 and leading to a two-year-long war throughout Java.
1760 – Seven Years' War: Russian forces occupy Berlin.
1806 – Prussia declares war on France.
1820 – Guayaquil declares independence from Spain.
1824 – Slavery is abolished in Costa Rica.
1831 – Ioannis Kapodistrias, the first head of state of independent Greece is assassinated.
1911 – An accidental bomb explosion in Hankou, Wuhan, China leads to the ultimate fall of the Qing Empire
1919 – Black Sox scandal: The Cincinnati Reds win the World Series.
1934 – Regicide at Marseille: The assassination of King Alexander I of Yugoslavia and Louis Barthou, Foreign Minister of France.
1936 – Generators at Boulder Dam (later renamed to Hoover Dam) begin to generate electricity from the Colorado River and transmit it 266 miles to Los Angeles, California.
1940 – The White House released a statement which said that government "policy is not to intermingle colored and white enlisted personnel in the same regimental organizations."
1962 – Uganda becomes an independent Commonwealth realm.
1966 – Vietnam War: Binh Tai massacre
1966 – Vietnam War: Dien Nien-Phuoc Binh massacre
1967 – A day after being captured, Marxist revolutionary Ernesto "Che" Guevara is executed for attempting to incite a revolution in Bolivia.
1969 – In Chicago, the United States National Guard is called in for crowd control as demonstrations continue in connection with the trial of the "Chicago Eight" that began on September 24.
1970 – The Khmer Republic is proclaimed in Cambodia.
1975 – Professional baseball player, Frank Robinson,becomes the manager of the Cleveland Indians and the first Black manager of a major league team
1981 – Abolition of capital punishment in France.
1983 – Rangoon bombing: attempted assassination of South Korean President Chun Doo-hwan during an official visit to Rangoon, Burma. Chun survives but the blast kills 17 of his entourage, including four cabinet ministers, and injures 17 others. Four Burmese officials also die in the blast.
2012 – Members of the Pakistani Taliban made a Failed attempt to assassinate Malala Yousafzai on her way home from school.
Sources: The People History; Wikipedia List of Historical Anniversaries; This Day in Women's History; This Day in Jewish History; This Day in African History;History.com; History Orb; Yenoba; Phil Konstantin's North American Indian History; and This Day in Music