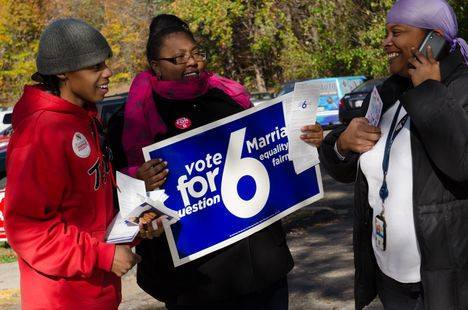 Podcast: Play in new window | Download
Subscribe: RSS
April 3, 2014 – Segment 2
We look at The New Black, which documents activists, families and clergy on both sides of the campaign to legalize gay marriage. Our panel will feature: Sharon Lettman-Hicks, Executive Director of the National Black Justice Coalition; Jennifer Williams, Assistant Professor of English and Women's, Gender, and Sexuality Studies at Morgan State University; Samantha Master, senior at Morgan State University, who served as the Community Service and Outreach Coordinator of Morgan's Queer Student Alliance from 2008-2010; and Yoruba Richen, Director of The New Black, who teaches documentary film at CUNY Graduate School of Journalism and is a Guggenheim Fellow. The New Black will screen Thursday evening, followed by a panel discussion, at the Murphy Fine Arts Recital Hall at Morgan State University.
Rev. Delman Coates, Senior Paster of Mt. Ennon Baptist Church in Clinton, MD, and Rev. Heber Brown, Pastor at Pleasant Hope Baptist Church in Baltimore, MD, comment on the issues raised in the film.
Then, we continue the discussion on The New Black, with a national perspective offered by Edward Wyckoff Williams, contributing editor at The Root and political contributor and Special Correspondent with Al Jazeera America.