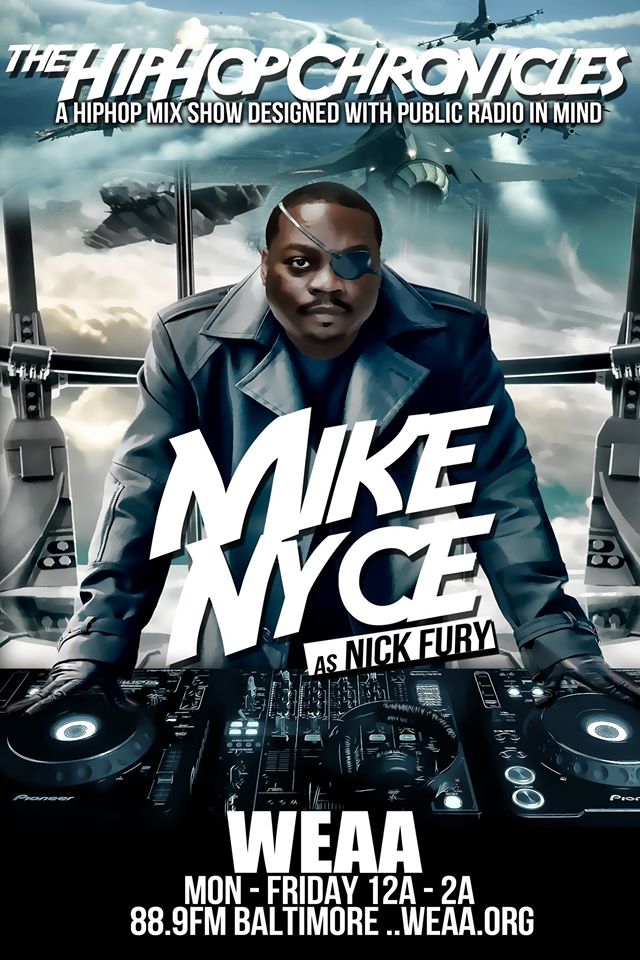 Podcast: Play in new window | Download
Subscribe: RSS
April 2, 2015 – Segment 1
We hear a special broadcast of WEAA's popular show The Hip–Hop Chronicles. The Hip–Hop Chronicles is produced by WEAA's Mike "Nyce" Middleton in partnership with Planet Earth Planet Rap.
Guests include: Catalina Byrd, co-Host of No Hooks for the Hip–Hop Chronicles; Dr. Jared Ball, Associate Professor at Morgan State University's School of Global Journalism and Communication, co-Editor of Malcolm X: A Lie of Reinvention and author of I Mix What I Like: A Mixtape Manifesto; Linn Washington, Professor in the Department of Journalism at Temple University; Faraji Muhammad, Youth Empowerment Coordinator for the American Friends Service Committee in Baltimore; and rapper, author and producer Chuck D.
The Hip–Hop Chronicles (HHC) is a Hip–Hop mix show designed with public radio in mind. HHC is built with Hip–Hop audio documentaries, "this day in Hip–Hop history" facts, exclusive one-on-one artist interviews, new music, album reviews, plus classic and old school music. HHC also addresses the political and social issues that affect the Hip–Hop generation, with in-depth conversations with political analysts, social activists, and community leaders, blended with current and classic socially conscious music. HHC also features entertainment news, financial tips, industry tips, mixes by an all-star DJ team, and an international rap show that features hip hop music by artists all over the world.