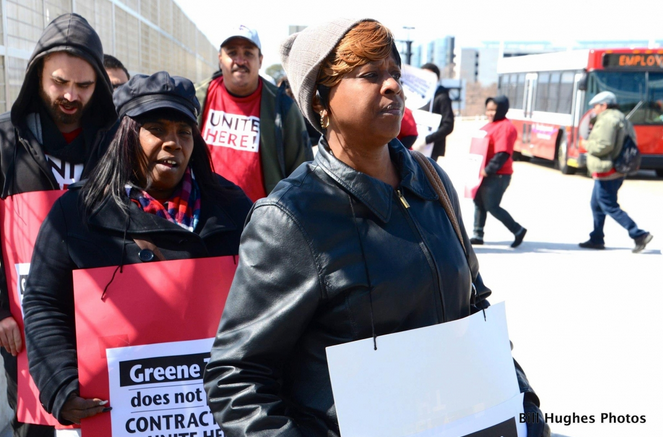 Podcast: Play in new window | Download
Subscribe: RSS
April 14, 2014 – Segment 3
We discuss the state of the labor movement in Maryland and beyond. We are talking with labor activists and workers involved in a number of struggles, including individuals who work at the Johns Hopkins Hospital, BWI Thurgood Marshall Airport, former Sparrows Point employees, and a person who is organizing community college employees. Our guests include:
Syndicated columnist and author Bill Fletcher, who is Senior Scholar at Institute for Policy Studies;
Carietta Hiers, longtime SEIU 1199 organizer at the Johns Hopkins Hospital who has been present at the ongoing contract talks between the workers at the hospital;
Jeff Singer, founder and former executive director of Health Care for the Homeless and instructor at the University of Maryland School of Social Work.
Mike Lewis, former Sparrows Point steelworker;
Kim Jensen, poet, author, and associate professor of English at the Community College of Baltimore County helping to organize professors and adjuncts;
Sam Williamson, bartender and server at Creative Food Group at the BWI Thurgood Marshall Airport and a leader of Unite Here Local 7;
Anthony Coates, Local President of AFSCME Local 647, Baltimore City Housing Authority;
Paul Williams, Local Vice President of AFSCME Local 647, Baltimore City Housing Authority;
and Lucky Crosby, Sr., maintenance mechanic who has worked for the Baltimore City Housing Authority for a decade.