Podcast: Play in new window | Download
Subscribe: RSS
June 18, 2013 – Segment 5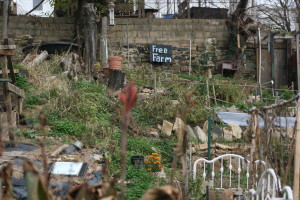 This week we continue our dialogue on the Farm Bill, which has been passed in the Senate but is still under debate in the House. We discuss how this Farm Bill is different from Farm Bills of the past, and what this means for the future of agriculture and food. Our panelists include: Rebecca Klein, Public Health & Agriculture Policy Project Director for the Johns Hopkins Center for a Livable Future; Erroll Mattox, Small Farm Management Agent in the School of Agricultural and Natural Sciences at the University of Maryland Eastern Shore; and Mark Hertsgaard, fellow of the New America Foundation, and author, most recently, of Hot: Living Through the Next Fifty Years on Earth.
Next we turn our attention to Baltimore. The Baltimore Free Farm, an urban farm in Hampden, is fighting the city of Baltimore for putting up for sale two of the lots the Free Farm has cleared and maintained for the past two years. The Free Farm argues that they should be able to keep the lots because they have provided hundreds of pounds of food for the community at no cost, among other reasons. We will hear from Billy Thomas, organizing committee member and farmer at the Baltimore Free Farm, and Jon Smeton, Johns Hopkins Community Impact Intern for the Baltimore Free Farm.
Our next stop is Union Graze, Baltimore's newest farmer's market! We will hear from various voices in that market, which is in the Clipper Mill neighborhood.
We conclude with a recipe for a simple and refreshing take on pasta: spaghetti aglio e oio, from UMBC senior and culinary aficionado Sam Levin!