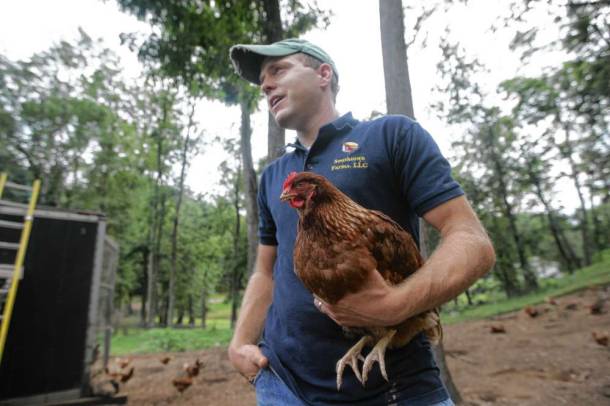 Podcast: Play in new window | Download
Subscribe: RSS
November 11, 2014 – Segment 3
On our Veterans Day edition of Sound Bites we begin the hour by talking to veterans who have embraced farming after returning home from war. First we talk with Matt Soldano, who started Southtown Farms in Mahwah, NJ, after serving four years in the Marine Corps including a combat tour in Iraq.  The following is from the Southtown Farms website:
"… Matt came home to a world that he viewed differently than before he left. He learned respect for all living things and that to take care of oneself is not enough. You must care for your family, your community, your land, the environment, and most importantly the animals that are put into your care."
And we talk with Army veteran Justen Garrity, Founder and President of Veteran Compost in Aberdeen, Maryland, whose motto is "From Combat to Compost." Veteran Compost focuses on turning food scraps into high quality organic compost and putting veterans to work. Here is a quote from the Veteran Compost website:
"Following a 15-month deployment in Iraq, Justen decided to transition to the National Guard so that he could be closer to his family.  Returning home to the worst job market in decades, he quickly found himself unemployed.  Justen was forced to create his own destiny.  And so, Veteran Compost was born.  A business that is as fulfilling as the missions he had in the Army."
Then, we close out Sound Bites by looking at last week's election results and the potential effect on Maryland's environmental and agricultural policy. With: Delegate Shane Robinson (D-District 39); Tim Wheeler, reporter for B'More Green, the Baltimore Sun's environmental blog; and a representative from the Chesapeake Bay Foundation.