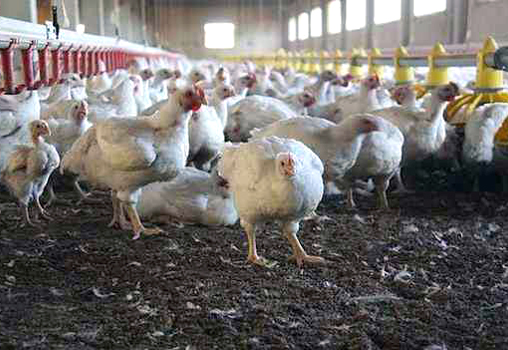 Podcast: Play in new window | Download
Subscribe: RSS
June 2, 2016 – Segment 3
It's our newest episode about our food and our world,
Sound Bites
. We hear a broadcast of a town hall Marc moderated a couple weeks ago in Salisbury on the Eastern Shore. The impetus for the town hall was a proposed poultry operation in Wicomico Country that would include up to thirteen chicken houses, each holding 30,000 chickens. The broiler operation would sit on top of the paleochannel, which is the public drinking water source for Salisbury residents. When this was first proposed citizens were left out of the County Council discussions and many were concerned about the health risks posed by these operations. What happened next was unique in the history of the Eastern Shore, as Black, Latino and White communities came together to convene this town meeting to let their voices be heard and to build a political movement.
The panel theme of this panel was "Health" and we looked at the expansion of industrial scale poultry Confined Animal Feeding Operations (CAFOs) and discussed the impact on community health and safety that expansion is having or could have. We're joined by public health experts who shared their perspectives on how zoning policy could be changed to protect public health and address community questions related to the density and intensity of industrial poultry CAFO expansion on the lower Eastern Shore. It was sponsored by The Concerned Citizens Against Industrial CAFOs (CCAIC), the Wicomico County Branch of the National Association for the Advancement of Colored People (WCNAACP), the Circle of Leaders (COL) and other concerned citizens of the lower Eastern Shore.
The panelists are:
Michelle Merkel, Co-Director, Food & Water Justice, Food & Water Watch;
Frederick Tutman, Patuxent Riverkeeper and Farming Representative for the Patuxent River Commission;
Maria Payan, Consultant for Socially Responsible Agricultural Project;
Craig Watts, former contracted poultry grower; and
Dr. Jillian Fry, Director of the Johns Hopkins Bloomberg School of Public Health's Center for a Livable Future's Public Health & Sustainable Aquaculture Project