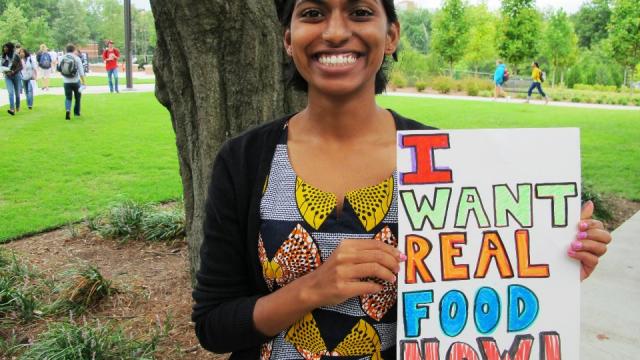 Podcast: Play in new window | Download
Subscribe: RSS
November 5, 2013 – Segment 4
On the newest episode of Sound Bites. we report an exciting development in the real food movement that took place last week right here in Baltimore. Johns Hopkins University President Ronald Daniels signed the Real Food Challenge Commitment and, by doing so, Hopkins agreed that by the year 2020, 20% of the food served in their dining halls will be locally grown, humanely raised, and ecologically sound. Our guests include:
Raychel Santo, Senior majoring in Public Health Studies and Global Environmental Change and Sustainability, and the co-founder and co-president of Real Food Hopkins;
Jon Berger, Mid-Atlantic Regional Coordinator for the Real Food Challenge;
and Bill Connor, Director of Dining Programs at Hopkins.
Then, we have a political food news roundup with Jenny Hopkinson, who covers agriculture and food policy issues for POLITICO Pro and writes Morning Agriculture.
We close out the show with a special recipe and commentary from MIchael Twitty, Culinary Historian of African and African American Foodways and blogger at Afroculinaria.