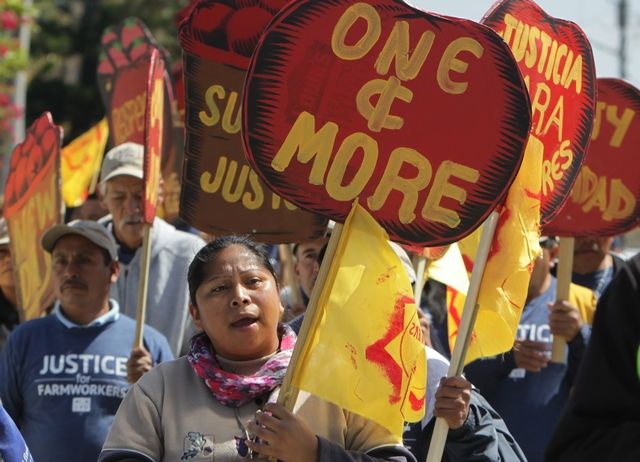 Podcast: Play in new window | Download
Subscribe: RSS
January 21, 2014 – Segment 3
It's the newest episode in our series about the food we eat, Sound Bites! We begin with Gerardo Reyes Chavez, a leader of the Coalition of Immokalee Workers who has worked in the fields as an agricultural worker since he was 11;  Jon Berger, Mid-Atlantic Coordinator for the Real Food Challenge; and Cassidy Regan, member of the Campaign for Fair Food; about a recent victory for workers in Florida: Walmart has joined the Fair Food Program, a grassroots movement to improve farmworkers' wages and working conditions.
Next we talk with Jeff Fromm, Executive Vice President at the independent ad agency Barkley and co-author of Marketing to Millennials: Reach the Largest and Most Influential Generation of Consumers Ever. Fromm will talk about what it means to market "less bad" food, and how the Millennial Generation – 31 million of whom are now parents – is paying closer attention to what they eat.
We close out the show with a commemoration of the work of inventor, educator, botanist and scientist George Washington Carver, who was born 150 years ago this month. Our guests are: Shirley Baxter, Tuskegee Institute National Historic Site park ranger; and Dr. Mark Hersey, assistant professor of History at Mississippi State University and author of My Work Is That Of Conservation: An Environmental Biography of George Washington Carver, which situates the agricultural and environmental work of Carver in the context of both the conservation movement of the early twentieth century and the environmental history of Alabama's Black Belt.