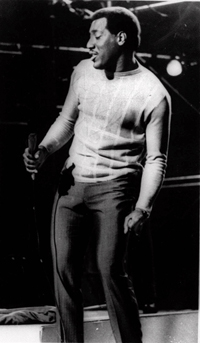 Podcast: Play in new window | Download
Subscribe: RSS
September 9, 2014 – Segment 1
Marc shares some of the events that happened on this day in history, including the births of Otis Redding, Sonia Sanchez, and Billy Preston, the deaths of Mao Zedong and Bill Monroe, and the launch of the four-day Attica Prison rebellion. 
BIRTHS

1806 – Abolitionist, Sarah Mapps Douglass was born

1828 – Leo Tolstoy, Russian author (d. 1910)  

1868 – Mary Hunter Austin, American author (d. 1934)

1890 – Colonel Sanders, American businessman, founded KFC (d. 1980)  

1911 – Paul Goodman, American poet, author, and playwright (d. 1972)  

1934, poet Sonia Sanchez was born Wilsonia Benita Driver in Birmingham, Alabama. 

1941 – Otis Redding, American singer-songwriter and producer (d. 1967)   

1946 – Singer and muscian, Billy Preston

DEATHS

1976 – Mao Zedong, Chinese politician (b. 1893)  

1996 – Bill Monroe, American singer-songwriter (b. 1911)  

1997 – Burgess Meredith, American actor (b. 1907)  

2012 – Larry Gibson, American environmentalist (b. 1946)  

DAY IN HISTORY

1739 – Stono Rebellion, the largest slave uprising in Britain's mainland North American colonies prior to the American Revolution, erupts near Charleston, South Carolina.

1776 – The Continental Congress officially names its new union of sovereign states the United States.

1791 – Washington, D.C., the capital of the United States, is named after President George Washington. 

1939 – Burmese national hero U Ottama dies in prison after a hunger strike to protest Britain's colonial government.  

1944 – World War II: The Fatherland Front takes power in Bulgaria through a military coup in the capital and armed rebellion in the country. A new pro-Soviet government is established.

1945 – Second Sino-Japanese War: Japan formally surrenders to China. 

1948 – Kim Il-sung declares the establishment of the Democratic People's Republic of Korea.

1956 – Elvis Presley appears on The Ed Sullivan Show for the first time.

1957 – Nashville's new Hattie Cotton Elementary School with enrollment of 1 Black and 388 whites virtually destroyed by dynamite blast.

1957 – The first civil rights bill to pass Congress since reconstruction was passed by President Eisenhower

 1962 – Two churches burned near Sasser, Georgia. Black leaders asked the president to stop the "Nazi-like reign of terror in southwest Georgia."

1965 – The United States Department of Housing and Urban Development is established. 

1968 – Arthur Ashe wins his way to become the first Black US men's Singles Tennis Champ

1971 – The four-day Attica Prison riot begins, which eventually results in 39 dead, most killed by state troopers retaking the prison. 

1990 – 1990 Batticaloa massacre, massacre of 184 minority Tamil civilians by Sri Lankan Army in the eastern Batticaloa District of Sri Lanka.

1991 – Tajikstan declares independence from the Soviet Union.

1993 – The Palestine Liberation Organization officially recognizes Israel as a legitimate state.