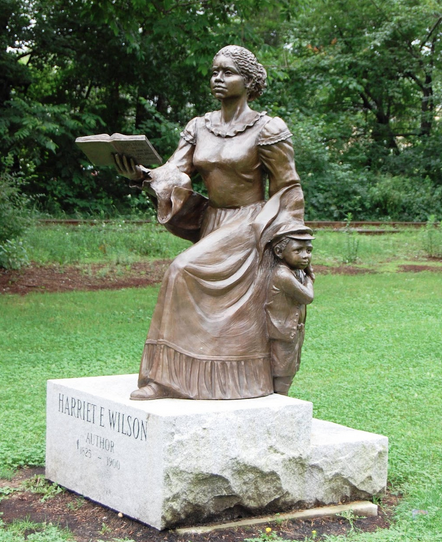 Podcast: Play in new window | Download
Subscribe: RSS
September 5, 2014 – Segment 1
Marc talks about what happened on this day in history, including the day 'Our Nig, Or, Sketches from the Life of a Free Black' was published, the first novel published by an African American woman, the birthday of civil rights pioneer Claudette Colvin, and the day the nation's first Labor Day parade was held in New York City.
Today is
Feast Day of Blessed Teresa of Calcutta (Christianity) "Do not wait for leaders.  Do it alone, person to person." –Mother Teresa
Teachers Day (India)
On this day
1698 –Tsar Peter I of Russia imposes a tax on beards.  The measure was taken in an attempt to westernize his nobility
1774 –The First Continental Congress assembles in Philadelphia
1781 –Battle of the Chesapeake in the American Revolutionary war:  The British Navy is defeated by the French and are forced to surrender Yorktown.
1793 –The French National Convention initiates the Reign of Terror
1798 –Conscription is made mandatory in France by the Jourdan law
1859 –"Our Nig, Or, Sketches from the Life of a Free Black" was published, the first novel published by an African American woman in North America.  The autobiography by Harriet E. Wilson.
1877 –American Indian Wars: Oglala Sioux chief Crazy Horse is bayoneted by a United States soldier after resisting confinement in a guardhouse at Fort Robinson in Nebraska
1882 –The nation's first Labor Day parade was held in New York City
1906 –The first legal forward pass in American football is thrown by Bradbury Robinson of St. Louis University to teammate Jack Schneider.
1914 –World War I: First Battle of the Marne begins
1915 –The Zimmerwald Conference begins
1938 –A group of youths affiliated with the fascist National Socialist Movement of Chile are assassinated in the Seguro Obrero massacre.
1939 –The United States declares its neutrality in World War II
1957 –"On the Road" by Jack Kerouac, the defining novel of the Beat Generation, was published
1958 –"Doctor Zhivago" by Russian author Boris Pasternak was published in the United States
1960 –Muhammad Ali is awarded the gold medal for first place in the light heavyweight boxing competition at the Olympic Games in Rome.
1969 – Mai Lai Massacre: U.S. Army Lt. William Calley is charged with six specifications of premeditated murder for the death of 109 Vietnamese civilians in My Lai.
1972 –Munich Massacre: A Palestinian terrorist group called "Black September" attack and take hostage 11 Israeli athletes at the Munich Olympic Games  2 die in the initial attack and 9 die the following day.
1975 –President Gerald Ford survives an assassination attempt. The would-be assassin was Lynette Alice "Squeaky" Fromme, a member of the infamous "Manson family".  Fromme was released in 2009 after serving 34 years of a life sentence.
1978 –Camp David Accords: Menachem Begin and Anwar Sadat begin peace process at Camp David, Maryland.
1991 – The current international treaty defending indigenous peoples, Indigenous and Tribal Peoples Convention, 1989 comes into force.
Birthdays
1568 –Tommaso Campanella, Italian philosopher and writer
1638 –Louis XIV of France
1750 –Robert Ferguson, Scottish poet
1817 –Aleksy Konstntinovivh Tolstoy, Russian poet, author, and playwright
1846 –John Wesley Cromwell, historian, educator, and lawyer was born enslaved in Portsmouth, Virginia
1847 –Jesse James, American Outlaw
1879 –Frank Baldwin Jewett, American engineer; first president of Bell Laboratories
1905 ­–Arthur Koestler, Hungarian-born English novelist and journalist
1916 –Frank Yerby, American author
1939 –Claudette Colvin, civil rights pioneer, was born in Montgomery, Alabama
This day in Music: birthdays
1936 –Willie Woods, Junior Walker & the All Stars
1941 –John Stewart of the Kingston Trio
1946 –Freddie Mercury, singer Queen
1946 –Dean Ford, Marmalade
1946 –Buddy Miles, drummer with The Ink Spots, Wilson Pickett and Jim Hendrix was born on this day
1966 –Terry Ellis, En Vogue
1968 –Brad Wilk, drums Rage Against the Machine
On this day in Music
1939 –Count Basie's Kansas City Seven records "Lester Leaps In," featuring tenor saxophonist Lester Young.
1940 –Duke Ellington records "In a Mellotone"
1959 –After a spate of stabbings in the city, New York radio station WCBS stops playing Bobby Darin's "Mack The Knife".
1972 –Roberta Flack and Jonny Hathaway's "Where is the Love?" is certified gold
1978 –Joe Negroni member of Frankie Lymon and the Teenagers, died.
1990 –B.B. King receives a star on the Hollywood Walk of Fame.
Sources: The People History; This Day in Labor History; Wikipedia List of Historical Anniversaries; This Day in Women's History; This Day in African History;History.com; History Orb; Yenoba; Selected Black Facts; Phil Konstantin's North American Indian History; and This Day in Music