Podcast: Play in new window | Download
Subscribe: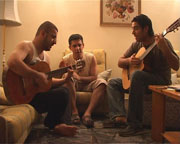 In the second half of today's show, we journey to Baghdad to learn about the ways that the American invasion changed the daily lives of ordinary citizens.  Filmmaker Ziad Jazzaa and impressionist painter Shakir Alousi are both refugees from the Iraqi capital who now live in Baltimore.  Ziad Jazzaa's new online film, Hometown Baghdad, follows three young Iraqis whose hopes for an ordinary life were shattered by the invasion.  Alousi's work explores the realities of life in a war torn country.  With Sawsan Al-Sayyab from the Baltimore office of the International Rescue Committee translating, they joined Marc to talk about their work, their new life in Baltimore, and the future of the creative arts in post-invasion Iraq.
This Thursday join Ziad Jazzaa, Shakir Alousi, and other refugees from Iraq at the Creative Alliance for a screening of Hometown Baghdad, an exhibition of Alousi's paintings, and an Iraqi food tasting.  You can watch Hometown Baghdad here.