Podcast: Play in new window | Download
Subscribe: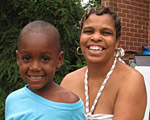 We're joined by a public housing tenant from Annapolis, Glenda Smith, who, along with other tenants and the ACLU, is challenging a policy that bans certain individuals from visiting family or friends at their homes in public housing because they have been accused of, but not always charged with or convicted of, a crime.  Legal Director of the ACLU of Maryland, Deborah Jeon, is with us this hour, as well.  For more info, click here.
For the last part of the hour, reporter Melody Simmons joins us with a live update from a health care reform rally at the Washington Monument in Baltimore.