Podcast: Play in new window | Download
Subscribe: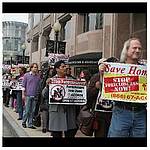 On Friday, Fox News broke with a scandal: an independent filmmaker had gone undercover with a female associate, posing as a prostitute and a pimp, to solicit condemning remarks from ACORN staff… and it appears they were successful, getting advice on everything from tax evasion to sex trafficking for minors who are in the country illegally. You can see the piece in its entirety on YouTube:
The tape has clearly audible edits and dubs, making the content's authenticity  problematic. So far, Fox News hasn't responded to ACORN's request for the unaltered tapes, but the question remains: why wasn't this fairly obvious set up questioned by ACORN staff from square one? What is ACORN going to do in the future around matters of self-protection and transparency?
Our panel today included:
Sonja Merchant-Jones, long-time ACORN member and leader
Michelle Moore, Maryland Field Director