Podcast: Play in new window | Download
Subscribe: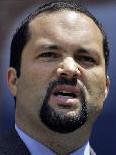 We continue our discussion about the primary elections tomorrow, and then are joined by NAACP President Benjamin Jealous, who discusses the current work of the NAACP, including organizing for the One Nation march on Washington, DC coming up on October 2, 2010.
Later this hour, we pay tribute to two men who recently passed away.  Tim Wheeler joins us to share memories of Irwin Silber, and Congressman Elijah Cummings joins us to remember Ron Walters.