Podcast: Play in new window | Download
Subscribe: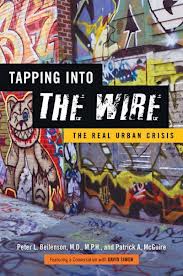 Former Baltimore City Health Commissioner Dr. Peter Beilenson joins us in studio for the latest of our Urbanite Radio Stories!
Peter will be discussing the new book that he co-authored with former Baltimore Sun reporter Patrick A. McGuire, Tapping into the Wire: The Real Urban Crisis. The book, which includes an interview with The Wire creator David Simon, examines urban policy and public health issues affecting cities across the nation.