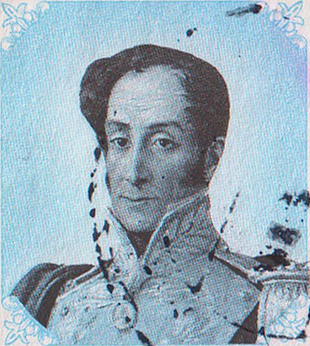 Podcast: Play in new window | Download
Subscribe: RSS
September 10, 2014 – Segment 1
Marc talks about what happened on this day in history, including the day Simon Bolivar was named President of Peru, the day Mordecai Wyatt Johnson, the first Black president of Howard University, died, and the day musician Roy James Brown was born.
–Independence Day, on this day Guinea-Bissau gains their independence from Portugal.
-National Day (Gibraltar)
-World Suicide Prevention Day (international)
1608 –John Smith is elected council president of Jamestown, Virginia,
1823 –Simon Bolivar is named President of Peru.
1846 –Elias Howe is granted the patent for the sewing machine
1897 –Lattimer massacre: A sheriff's posse kills 20 immigrant miners in Pennsylvania
1939 –Canada declares war on Germany and enters WWII joining the Allies – France, the United Kingdom, New Zealand and Australia
1943 –Germany begins their occupation of Rome
1948 –American-born Mildred Gillars, the Nazi wartime radio broadcaster known as "Axis Sally" was indicted in Washington, D.C., for treason.
1960 –1960 Summer Olympics, Rome: Abebe Bikila wins the gold medal in the marathon becoming the first sub-Saharan African to claim gold in Olympic games.
1963 –  Twenty black students entered public school in cities across Alabama after a standoff between federal authorities and Governor George c. Wallace.
1976 –Mordecai Wyatt Johnson, the first Black president of Howard University died.  Born on the 12th January 1890, in Paris Tennessee, the Morehouse College graduate was elected President of Howard University in 1926.  He held the position until he retired in 1960.  His tenure at the helm of the University is looked on as a time of great growth and prosperity for the school.  The campus was expanded, finances were stabilized and enrolment rose steadily.  Johnson was awarded the NAACP Spingam medal in 1929.
1977 –  Last execution by guillotine in France took place on this day.
1979 – Antonio Agostinho Neto, the first President of the Republic of Angola died.
2000 –Cats, the musical by Sir Andrew Lloyd Webber closed after 7,485 performance over 18 yearss; the longest-running show in Broadway history.
2002 –Historically neutral Switzerland became the 190th member of the United Nations
1786 –Nicolas Bravo, Mexican soldier and politician, 11th President of Mexico
1786 –William Mason, American politician
1801 –Marie Laveau, American voodoo practitioner
1847 –John Roy Lynch, the first African American Speaker of the House in the state of Mississippi was born enslaved in Concordia Parish, Louisiana.
1923 –Hoyt William Fuller, editor critic and leading figure in the Black Arts Movement was born on this day in Atlanta Georgia.  Created the Organization of Black American Culture.
1934 –Roger Maris, American baseball player and coach
1940 –Junious "Buck" Buchanan, hall of fame football player was, born in Gainesville, Florida.  The first Black number one draft pick in football history when he was picked first by the Kansas City Chiefs in the 1963 draft.
1941 –Gunpei Yokoi, Japanese video game designer, inventor of the Game Boy
1963 –Marion Keyes, Irish Author
This day in music: Birthdays
1659 –Henry Purcell,  English composer
1889 –Waldo Semon the inventor of vinyl, which was used to make records was born on this day in Demopolis, Alabama.
1925 –Roy James Brown, hall of fame rhythm and blues singer, songwriter and musician, born this day in New Orleans, Louisiana.
1937 –Danny Hutton, singer with the band Three Dog Night was born on this day inBucrana, Donegal, Ireland
1950 –Joe Perry, guitarist for the band Aerosmith, is born on this day in Lawrence, Massachusetts                 
1968 –Antonio Hardy, aka "Big Daddy Kane" , rapper –  was born on this day in Brooklyn New York.
1955 –Chuck Berry's "Maybellene" reaches it peak position at No.5 on the US singles chart.  It is Berry's first major hit.
1956 –Miles Davis and John Coltrane record "Round Midnight"
1965 –The Byrds record "Turn! Turn! Turn! (To Everything There is a Season"
1966 –The Supremes' "You Can't Hurry Love" hits No.1
1988 –Guns N' Roses go to No.1 on the US singles charts with 'Sweet Child O' Mine'.
1991 –Nirvana releases single "Smells Like Teen Spirit" in the US.  The unprecedented success of the single propels the band to overnight superstardom.