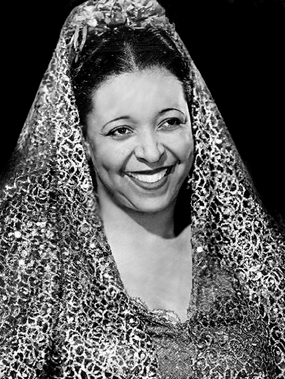 Podcast: Play in new window | Download
Subscribe: RSS
September 1, 2014 – Segment 1
Marc talks about what happened on this day in history, including the day Ethel Waters passed away,  the day the first Black person graduated from the Harvard Dental School, and the day a coup d'état in the Central African Republic overthrew President David Dacko.
EVENTS
1774 – Massachusetts Bay colonists rise up in the bloodless Powder Alarm.
1867 – The first Black person to graduate from Harvard Dental School is Robert T Freeman
1873 – Cetshwayo ascends to the throne as king of the Zulu nation following the death of his father Mpande.
1875 – White Democrats attacked Republicans at Yazoo City, Mississippi. One white and three Blacks were killed.
1897 – The Boston subway opens, becoming the first underground rapid transit system in North America.
1902 – A Trip to the Moon, considered one of the first science fiction films, is released in France.
1939 – World War II: Nazi Germany and Slovakia invade Poland, beginning the European phase of World War II.
1939 – Adolf Hitler signs an order to begin the systematic euthanasia of mentally ill and disabled people.
1952 – The Old Man and the Sea, the Pulitzer Prize-winning novel by Ernest Hemingway, is first published.
1952 – Atlantic Records bought Ray Charles' contract from Swingtime Records, where Charles had been recording in the mellower, bluesy style of Nat King Cole and Charles Brown.
1961 – The Eritrean War of Independence officially begins with the shooting of the Ethiopian police by Hamid Idris Awate.
1967 – The Khmer–Chinese Friendship Association is banned in Cambodia 1969 – A coup in Libya brings Muammar Gaddafi to power.
1969 – Tran Thien Khiem becomes Prime Minister of South Vietnam under President Nguyen Van Thieu.
1970 – Attempted assassination of King Hussein of Jordan by Palestinian guerrillas, who attack his motorcade.
1972 – In Reykjavík, Iceland, American Bobby Fischer beats Russian Boris Spassky to become the world chess champion.
1981 – A coup d'état in the Central African Republic overthrows President David Dacko.
1984 – After a 25-year career, Tina Turner had her first solo No.1 single in the US with 'What's Love Got To Do With It'. This song was originally written for Cliff Richard, however the song was rejected. It was then offered to Donna Summer, who has stated she sat with it for a couple of years but never recorded it.
1991 – Uzbekistan declares independence from the Soviet Union.
2004 – The Beslan school hostage crisis commences when armed terrorists take children and adults hostage in Beslan in North Ossetia, Russia.
BIRTHS
1875 – Edgar Rice Burroughs, American author (d. 1950)
1896 – A. C. Bhaktivedanta Swami Prabhupada, Indian religious leader, founder-acharya of the International Society for Krishna Consciousness (d. 1977)
1925 – Art Pepper, American saxophonist, clarinet player, and composer (d. 1982)
1927 – Tommy Evans, The Drifters, (1960 US No.1 & UK No.2 single 'Save The Last Dance For Me').
1931 – Boxcar Willie, American singer-songwriter and guitarist (d. 1999)
1933 – Conway Twitty, American singer-songwriter and guitarist (d. 1993)
1938 – Alan Dershowitz, American lawyer and author
1944 – Archie Bell, American singer-songwriter (Archie Bell & the Drells)
1946 – Greg Errico, American drummer and producer (Sly & the Family Stone and Weather Report)
1957 – Gloria Estefan, Cuban-American singer-songwriter and actress
1975 – Nomy Lamm, American singer-songwriter and activist
DEATHS
1977 – Ethel Waters, American singer and actress (b. 1896)
Sources: The People History; This Day in Labor History; Wikipedia List of Historical Anniversaries; This Day in Women's History; This Day in African History;History.com; History Orb; Yenoba; Selected Black Facts; Phil Konstantin's North American Indian History; and This Day in Music