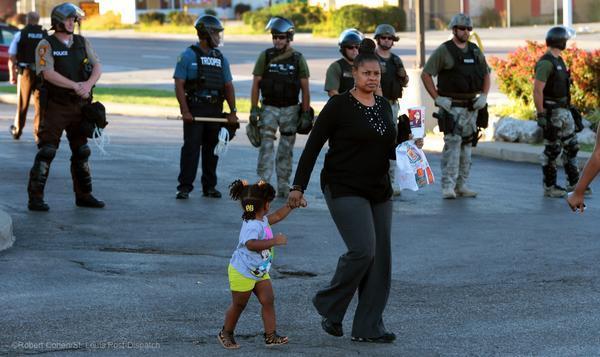 Podcast: Play in new window | Download
Subscribe: RSS
August 18, 2014 – Segment 2
We take an in-depth look at the situation in Ferguson, Missouri, following the shooting death of unarmed teenager Michael Brown by the police last week. The issue will be addressed from the perspectives of police/community relations, the culture of policing, and the militarization of police departments nationwide.
Our panel of guests for this discussion will include: the Rev. Dr. Heber Brown, community activist and pastor at Pleasant Hope Baptist Church; Nadra Enzi,
community policing activist in New Orleans and member of the national advisory council of the black leadership network Project 21; Adar Ayira, project manager of the More in the Middle Campaign for Associated Black Charities and facilitator and analyst at Baltimore Racial Justice Action, a program of Fusion Partnerships; Doug Ward, Director of Johns Hopkins University's Division of Public Safety Leadership; Jacqui Robarge, Founder and Director of Power Inside; and author Kristian Williams, whose books include Hurt: Notes on Torture in a Modern Democracy and Our Enemies in Blue: Police and Power in America.