Podcast: Play in new window | Download
Subscribe: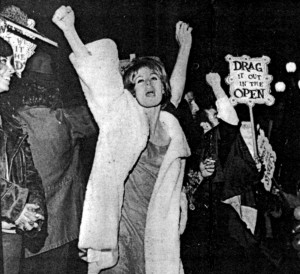 June 30, 2014 – Segment 3
On June 28, 1969, New York City police conducted a raid against the gay and lesbian community at the Stonewall Inn in Greenwich Village, sparking the Stonewall riots. The riots are considered by many to be the start of the LGBTQ* political movement. Now, we look at LGBTQ* politics 45 years after Stonewall, with: Dr. Kate Drabinski, Lecturer of Gender and Women's Studies and Director of the Women Involved in Learning and Leadership (WILL) program at UMBC; Vann Michael, Black Transmen Inc. Maryland/DC Chapter representative and author of the Real TransTalk column forBaltimore Outloud; and Imara Jones, Economic Justice contributor for Colorlines.com; and Sharon Brackett, Board Chair of Gender Rights Maryland.