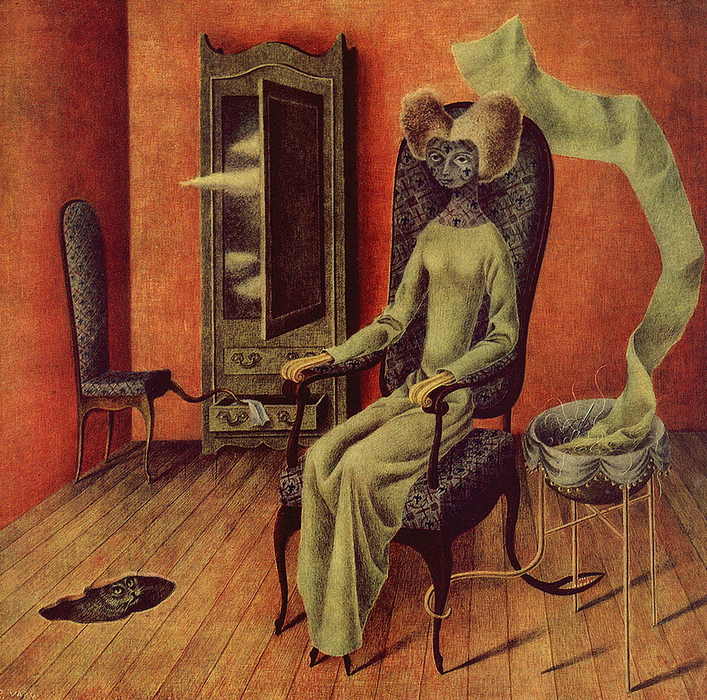 Podcast: Play in new window | Download
Subscribe: RSS
October 8, 2014 – Segment 1
Marc talks about what happened on this day in history, including the day Spanish-Mexican surrealist artist Remedios Varo died, the day the first women's prison run by women opened at the Indiana Reformatory Institute, and the day Chuck Berry was awarded a star on the Hollywood Walk of Fame.
HOLIDAYS
* Independence Day, celebrates the official separation of Croatia from Yugoslavia in 1991.
BIRTHDAYS
* 1794: Caroline Howard Gilman born (writer, publisher)
* 1826: Emily Blackwell born (physician, editor) –  the second woman to earn a medical degree at what is now Case Western Reserve University, and the third openly identified woman to earn a medical degree in the United States.
* 1858: Marie Van Zandt born (opera singer, American soprano)
* 1883 – Dick Burnett, American singer-songwriter and guitarist (d. 1977) wrote Man of Constant Sorrow
* 1910 – Gus Hall, American union organizer and head of the U.S. Communist Party (d. 2000)
* 1927 – Gigi Durston, Balt Md, singer (Sonny Kendis Show)
* 1934: Faith Ringgold born (artist)  African-American artist, best known for her painted story quilts.
* 1934 – Doc Green, a baritone member of the 1950s and '60s rock group the Drifters, born
* 1940 – Fred Cash born, an African-American soul singer. He is best known for being a member of the successful group The Impressions
* 1940 – George Bellamy born, an English musician and former rhythm guitarist for The Tornados
* 1941: Jesse Louis Jackson, Sr. (born Jesse Louis Burns; October 8, 1941) is an American civil rights activist and Baptist minister. He was a candidate for the Democratic presidential nomination in 1984 and 1988 and served as a shadow U.S. Senator for the District of Columbia from 1991 to 1997. He is the founder of the organizations that merged to form Rainbow/PUSH. Former U.S. Representative Jesse Jackson, Jr. is his eldest son. Jackson was also the host of Both Sides with Jesse Jackson on CNN from 1992 to 2000.
* 1943 – R. L. Stine, Columbus, Ohio, children's book writer (Goosebumps)
* 1945 – Butch Rillera born, guitarist in Redbone, a Native American/Mexican American rock group that was most active in the 1970s
* 1945 – Ray Royer born, guitarist in Procol Harum
* 1948 – Johnny Ramone born, guitar in The Ramones
* 1949 – Harry Bowens born (Was Not Was)
* 1961 – Ted Kooshian, American jazz pianist
* 1967 – Teddy Riley born, US singer, Blackstreet
DEATHS
* 1963 – Remedios Varo, Spanish-Mexican surrealist artist dies of a heart attack aged 54
EVENTS
* 1391: St. Bridget of Sweden canonized, one of the six patron saints of Europe
* 1541: de Soto fights with CADDO Indians, today, in Tula, Arkansas.
* 1633 – Massachusetts Bay Colony forms its 1st government
* 1758: (through October 26): IROQUOIS & DELAWARE treaty – the Council of Easton begins today in Philadelphia, Pennsylvania. Eventually peace treaties will be signed, and many of the much-hated treaty of Albany will be abrogated.
* 1775 – Officers decide to bar slaves & free blacks from Continental Army
* 1778 – A group of Continental Army soldiers under the command of Colonel William Butler launch an evening attack on Mohawk Chief Joseph Brant's home village of Unadilla on the Susquehanna River in what is now Otsego County, New York, on this day in 1778. The assault was retaliation for Brant's September 17 raid on the town of German Flats, New York.
* 1856 – The Second Opium War or 2nd Anglo-Chinese War: begins with the Arrow Incident on the Pearl River.
* 1871 – Flames spark in the Chicago barn of Patrick and Catherine O'Leary, igniting a two-day blaze that kills between 200 and 300 people, destroys 17,450 buildings, leaves 100,000 homeless and causes an estimated $200 million (in 1871 dollars; $3 billion in 2007 dollars) in damages. Legend has it that a cow kicked over a lantern in the O'Leary barn and started the fire, but other theories hold that humans or even a comet may have been responsible for the event that left four square miles of the Windy City, including its business district, in ruins. Dry weather and an abundance of wooden buildings, streets and sidewalks made Chicago vulnerable to fire. The city averaged two fires per day in 1870; there were 20 fires throughout Chicago the week before the Great Fire of 1871.
* 1873 – 1st women's prison run by women opens at Indiana Reformatory Institute
* 1919: The first transcontinental air race in the United States begins, with 63 planes competing between California and New York .
* 1921 : A 100 gallon capacity still, three barrels of mash and 50 gallons of whisky were found when prohibition agents raided a home in a fashionable neighborhood in Toledo, Ohio .
* 1929 : A Man is Charged of Speaking Offensively in Front of a Lady and found guilty for using obscene language in front of a woman in Ohio.
* 1933 : As the nations farmers continue to struggle the National Farmers Union has asked President Roosevelt to intervene and place a moratorium on farm mortgage foreclosures and that farm prices be pegged at the cost of production .
* 1953 – Birmingham Alabama, bars Jackie Robinson's Negro-White All-Stars from playing there Robinson gives in & drops white players from his group
* 1956 – New York Yankees right-hander Don Larsen pitches the first no-hitter in the history of the World Series. Even better, it was a perfect game–that is, there were no runs, no hits and no errors, and no batter reached first base.
* 1957 – Jerry Lee Lewis was not the only early rock-and-roller from a strict Christian background who struggled to reconcile his religious beliefs with the moral implications of the music he created. He may have been the only one to have one of his religious crises caught on tape, however—in between takes on one of his legendary hit songs. It was on October 8, 1957, that bible-school dropout Jerry Lee Lewis laid down the definitive version of "Great Balls Of Fire," amidst a losing battle with his conscience and with the legendary Sam Phillips, head of Sun Records.
* 1967 – A Bolivian guerrilla force led by Marxist revolutionary Che Guevara is defeated in a skirmish with a special detachment of the Bolivian army. Guevara was wounded, captured, and executed the next day.
* 1968 – Operation Sealords is launched in the Mekong Delta by U.S. and South Vietnamese forces.
* 1969 : The Weather Underground ( Weatherman )has the first of The Days of Rage riots in Chicago, Illinois.
* 1970 – The best-known living Russian writer, Aleksandr Solzhenitsyn, wins the Nobel Prize for literature. Born in 1918 in the Soviet Union, Solzhenitsyn was a leading writer and critic of Soviet internal oppression. Arrested in 1945 for criticizing the Stalin regime, he served eight years in Russian prisons and labor camps.
* 1970 – The Communist delegation in Paris rejects President Richard Nixon's October 7 proposal as "a maneuver to deceive world opinion." Nixon had announced five-point proposal to end the war, based on a "standstill" cease-fire in place in South Vietnam, Laos, and Cambodia. He proposed eventual withdrawal of U.S. forces, unconditional release of prisoners of war, and political solutions reflecting the will of the South Vietnamese people.
* 1971 – John Lennon releases his megahit "Imagine"
* 1973 : Reports from the middle east on the third day of the Arab – Israeli war give differing news with Israel stating Syria is in full retreat from the Golan Heights back to Damascus while Syrian Radio states they repulsed the Israeli attacks and are in full control. Egypt has also stated they are in full control of the east bank of the Suez Canal. The US is meanwhile asking for a meeting of the full security council of the United Nations so they can put forward proposals to end the war.
* 1974 : Franklin National Bank once the United States 20th largest bank, is declared insolvent insolvent due to mismanagement and fraud by the Treasury Department making it the largest bank failure in the history of the United States at that point in time.
* 1982 : The Polish government bans the Solidarity Trade Union in an attempt to destroy the Union.
* 1987, Chuck Berry was awarded a star on the Hollywood Walk of Fame. His film biography, Hail, Hail Rock & Roll also premiered on the same night.
* 1990 :Seventeen Palestinians are shot and killed, and over 100 are wounded, by Israeli police at the Al Aksa Mosque on Jerusalem's Temple Mount, a site sacred to Jews and Muslims
* 1998 – the U.S. House of Representatives votes to proceed toward impeaching President Bill Clinton on charges of perjury and obstruction of justice. By December 1998, the Republican-led House had gathered enough information from an investigation committee to vote in favor of impeachment, which in turn sent the case to the Senate.
* 2004: Martha Stewart is sentenced to five months in prison and five months of home confinement in addition to a $30,000 fine and was sent to the minimum-security facility in West Virginia—known as "Camp Cupcake"
* 2005 : A massive 7.6-magnitude earthquake strikes Azad Kashmir ( Pakistan-administered Kashmir ) leaving an estimated 70,000 dead and 70,000 more injured. More than 3 million were left homeless and without food and basic supplies.
* 2008: The National Debt Clock in New York has run out of digits to record the spiralling number and two new digits will be added.