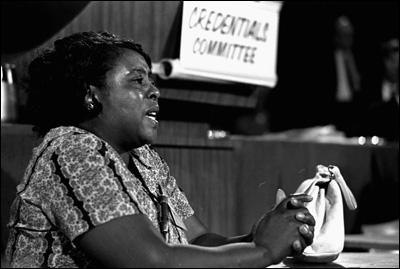 October 6, 2014 – Segment 1
Marc shares some of the events that happened on this day in history, including the births of Fannie Lou Hamer and Gerry Adams, the launch of the Yom Kippur War, and the 1976 massacre of students gathering at Thammasat University in Bangkok, Thailand.
Podcast available soon
EVENTS
1683 – German immigrant families found Germantown in the colony of Pennsylvania, marking the first major immigration of German people to America. 
1789 – French Revolution: Louis XVI returns to Paris from Versailles after being confronted by the Parisian women on 5 
October
1868 – Black state convention at Macon, Georgia, protested expulsion of Black politicians from Georgia legislature.
1884 – The Naval War College of the United States Navy is founded in Newport, Rhode Island. 1889 – American inventor Thomas Edison shows his first motion picture.
1917 – John A. Wilkinson's marriage to Lorraine Mary Turner was the first legalized interracial marriage in North Carolina. Wilkinson was black and Turner was white.
1923 – The great powers of World War I withdraw from Istanbul. 1927 – Opening of The Jazz Singer, the first prominent talking movie. 
1939 – World War II: Germany's invasion of Poland ends with the surrender of Polesia army after the Battle of Kock
1945 – Baseball: Billy Sianis and his pet billy goat are ejected from Wrigley Field during Game 4 of the 1945 World Series (see Curse of the Billy Goat).
1973 – Egypt launches a coordinated attack with Syria against Israel leading to the Yom Kippur War.
1976 – Cubana Flight 455 crashes into the Atlantic Ocean shortly after taking off from Bridgetown, Barbados, after two bombs, placed on board by terrorists with connections to the CIA, exploded. All 73 people on board are killed.
1976 – New Premier Hua Guofeng orders the arrest of the Gang of Four and associates and ends the Cultural Revolution in the People's Republic of China.
1976 – Massacre of students gathering at Thammasat University in Bangkok, Thailand, to protest the return of ex-dictator Thanom, by a coalition of right-wing paramilitary and government forces, triggering the return of the military to government.
1977 – In Alicante, Spain, fascists attack a group of MCPV militants and sympathizers, and one MCPV sympathizer is killed.
1979 – Pope John Paul II becomes the first pontiff to visit the White House.
1981 – Egyptian President Anwar al-Sadat is murdered by Islamic extremists.
1985 – PC Keith Blakelock is murdered as riots erupt in the Broadwater Farm suburb of London.
2000 – Yugoslav president Slobodan Milošević resigns.
2000 – Argentine vice president Carlos Álvarez resigns.
2002 – The French oil tanker Limburg is bombed off Yemen.
Births
1917 – Fannie Lou Hamer, American activist (d. 1977)
1921 – Joseph Lowery, American minister and activist
1930 – Hafez al-Assad, Syrian general and politician, 20th President of Syria (d. 2000)
1948 – Gerry Adams, Irish politician
Deaths
1951 – Will Keith Kellogg, American businessman, founded the Kellogg Company (b. 1860)
1979 – Elizabeth Bishop, American poet and author (b. 1911)
1981 – Anwar Sadat, Egyptian politician, 3rd President of Egypt, Nobel Peace Prize laureate (b. 1918)
1989 – Bette Davis, American actress and singer (b. 1908)
2011 – Ahmed Jaber al-Qattan, Bahraini protester (b. 1994)
Sources: The People History; This Day in Labor History; Wikipedia List of Historical Anniversaries; This Day in Women's History; This Day in African History;History.com; History Orb; Yenoba; Selected Black Facts; Phil Konstantin's North American Indian History; and This Day in Music