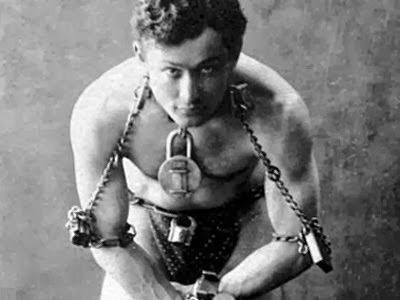 Podcast: Play in new window | Download
Subscribe: RSS
October 31, 2014 – Segment 1
Marc talks about what happened on this day in history, including the day Tennessee sent in leased convict laborers to break a coal miners strike in Anderson County, the day circus and vaudeville performer Mercy Lavinia Warren Bump Stratton was born, and the day Harry Houdini died.
events
683 – During the Siege of Mecca, the Kaaba catches fire and is burned down.
1517 – Protestant Reformation: Martin Luther posts his 95 theses on the door of the Castle Church in Wittenberg.
1755: Today will see the beginning of a raid by almost 100 DELAWAREs and SHAWNEEs against settlers in Fulton and Franklin Counties, Pennsylvania. Over the next several days, Indian attacks along Conolloway Creek and adjoining areas, will kill or capture half of the 100 settlers in the area. "King" Shingas, of the DELAWAREs, led the raids.
1818: According to the U.S.Army, today marks the end of First SEMINOLE War
1829 – George Henry Evans publishes the first issue of the Working Man's Advocate, "edited by a Mechanic" for the "useful and industrious classes" in New York City. He focused on the inequities between the "portion of society living in luxury" and those "groaning under the oppressions and miseries imposed on them."
1831 – Nat Turner, was turned over to a sheriff on this date in 1831.  The revolutionary freedom-fighter was captured the previous day for his involvement in his infamous slave revolt.
1891 – Tennessee sends in leased convict laborers to break a coal miners strike in Anderson County. The miners revolted, burned the stockades, and sent the captured convicts by train back to Knoxville
1931 : USA – Following the announcement that Great Britain had decided to abandon the Gold Standard in mid September a mini panic occurred when people were worried their money was not safe in local banks , the panic caused people to draw savings from the banks which in turn placed more pressure on the banks than the 1929 stock market crash had already, because of this by 31st October 827 banks were forced to close.
1941 : After 14 years of labor by 400 stone masons, the Mt. Rushmore sculpture is completed in Keystone, S.D. The project had started on October 4th, 1927 to represent the first 150 years of American history
1941 – World War II: The destroyer USS Reuben James is torpedoed by a German U-boat near Iceland, killing more than 100 United States Navy sailors. It is the first U.S. Navy vessel sunk by enemy action in WWII.
1949 – The Upholsterers Int'l Union merges into the United Steelworkers
1950 : Puerto Rico – Fighting is continuing in the streets of San Juan between rebels seeking Puerto Rico secession from the United States and 4000 National Guardsman who have been sent in to bring calm to the city. Aircraft are now being used in bombing raids against the rebel hideouts entrenched in and around the mountain towns of Jayuya and Utuado .
1956 : Following Egypt's decision to nationalise the Suez Canal Britain and France begin bombing Egypt to force the reopening of the Suez Canal
1961 : Joseph Stalin's body is removed from Lenin's Tomb as part of the process of de-Stalinization in The Soviet Union.
1964 : The Berlin wall was opened up for the second time yesterday for West Germans to visit relatives in East Germany and by nightfall 20,000 had passed through the communist controls. The visits are only allowed one way from west to east due to concerns of the East German Government that it's subjects would not return.
1968 : After 5 months of negotiations making no progress President Lyndon Johnson orders an end to rolling thunder, The U.S. bombing of North Vietnam in the hopes this would bring an end to the fighting and provide a negotiated settlement.
1971 – Int'l Alliance of Bill Posters, Billers & Distributors of the United States & Canada surrenders its AFL-CIO charter and is disbanded
1973 – Mountjoy Prison helicopter escape. Three Provisional Irish Republican Army members escape from Mountjoy Prison, Dublin, Republic of Ireland aboard a hijacked helicopter that lands in the exercise yard.
1983 : England – Women protesting the soon to arrive U.S. Nuclear Missiles at Greenham Common air base cut through the perimeter fence and daubed emulsion paint on the runway prior to being arrested. They were part of the Greenham Common Women's Peace Camp.
1984 : Indian Prime Minister Indira Gandhi was gunned down outside of her home by Sikh extremists. Riots break out in New Delhi and nearly 10,000 Sikhs are killed.
1997 – Violet Palmer, a Black woman, became the first woman to officiate a NBA game (Dallas Mavericks at Vancouver Grizzlies) on this date in 1997.  The NBA introduced two women officials in 1997.
2002 : Andrew Fastow former chief financial officer for Enron Corp is indicted on 78 counts of wire fraud, money laundering, conspiracy and obstruction of justice related to the collapse of Enron Corp.
2003 : Malaysia – After 22 years from 1981 to 2003 Mahathir bin Mohamad retires from office and the Deputy Prime Minister Abdullah Ahmad Badawi becomes the countries Prime Minister.
2008 : State Media in China has reported the toxic chemical melamine is probably being routinely added to Chinese animal feed, melamine has now been found in contaminated milk and eggs. Melamine is used to reduce production costs while maintaining the protein count for quality inspections,
2011 – The global population of humans reached seven billion. This day is now recognized by the United Nations as Seven Billion Day.
2012 : A roadside bomb attack in the Helmand province of Afghanistan killed ten civilians, mainly women and children.
birthdays
1841: Mercy Lavinia Warren Bump Stratton born ("Mrs. Tom Thumb" or Lavinia Warren Stratton: circus and vaudeville performer)
1860: Juliette Gordon Low born (Girl Scouts founder)
1896: Ethel Waters born (singer, actor) Her best-known recordings include "Dinah," "Stormy Weather," "Taking a Chance on Love," "Heat Wave," "Supper Time," "Am I Blue?" and "Cabin in the Sky," as well as her version of the spiritual "His Eye Is on the Sparrow." Waters, a popular figure during the "Harlem Renaissance," won best supporting actress for her role in Pinky (1949). Waters was the second African American, after Hattie McDaniel, to be nominated for an Academy Award. She is also the first African American woman to be nominated for an Emmy Award, in 1962.
deaths
1926 : Harry Houdini magician and escapologist dies of gangrene and peritonitis after his appendix ruptured
Sources: The People History; Wikipedia List of Historical Anniversaries; This Day in Women's History; This Day in Jewish History; This Day in African History;History.com; History Orb; Yenoba; Phil Konstantin's North American Indian History; and This Day in Music