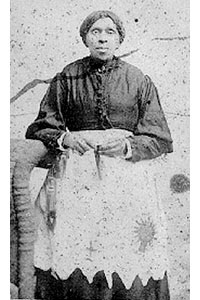 Podcast: Play in new window | Download
Subscribe: RSS
October 30, 2014 – Segment 1
Marc talks about what happened on this day in history, including the day African American quilter Harriet Powers was born, the day Jam Master Jay from Run-DMC was murdered, and the day Pontiac informed Major Henry Gladwin that he wanted peace and an end to the fighting at Fort Detroit.
events
1763: Today, Pontiac will inform Major Henry Gladwin, Commander at Fort Detroit, that he wants peace, and to end the fighting.
1775, the Continental Congress appoints seven members to serve on an administrative naval committee tasked with the acquisition, outfitting and manning of a naval fleet to be used in defense against the British. Almost two weeks earlier, on October 13, 1775, Congress had authorized the construction and arming of vessels for the country's first navy.
1793: Jacobin government of France banned all female political organizations and, in the next week, arrested and executed many women leaders
1830: Sense and Sensibility, Jane Austen's first novel, published
1831 – Nat Turner, revolutionary freedom-fighter and leader of a slave revolt in Southampton County, VA, was captured on this date in 1831.  During his three-day revolt, Turner and other slaves killed nearly 60 whites.
1890: Oakland, California, enacts a law against opium, morphine, and cocaine. The new regulations allowed only doctors to prescribe these drugs, which, until then, had been legal for cures or pain relief. Reflecting a general trend at the time, Oakland was only one of the jurisdictions across the country that began to pass criminal laws against the use of mind-altering substances.
1922: Mussolini, leader of the Fascist, demands that complete control of the government be handed over to his organization or he was prepared to fight his way to power with his army of 800,000 supporters. The King of Italy Victor Emanuel agrees to his demands and allows him to form a cabinet
1938: Radio dramatist Orson Welles caused mass hysteria and frightened tens of thousands of listeners causing people to flee from their homes and praying for salvation when the play War of the Worlds was aired on Radio, The dramatization was so good people mistook the play for newscasts which caused the panic .
1941, President Roosevelt, determined to keep the United States out of the war while helping those allies already mired in it, approves $1 billion in Lend-Lease loans to the Soviet Union. The terms: no interest and repayment did not have to start until five years after the war was over.
1944: Aaron Copland's Appalachian Spring premieres at the Library of Congress
1951 Tony Bennett hits the top of the Billboard Pop charts with his #1 hit – "Cold, Cold Heart." More than five decades later, he continues entertain audiences with his unmistakable crooning voice.
1954 – The Defense Department completed their desegregation by abolishing the last all-Negro unit in the Armed Forces on this date in 1954.
1961 : The Soviet Union has exploded the world's biggest bomb so far nearly 4,000 times more powerful than the atomic bomb dropped on Hiroshima in 1945. This is the latest in a series of larger and larger bombs the Soviets have been exploding over the last few years. The United Nations is appealing to both the US and the Soviet Union to end the arms race or risk destroying the planet.
1969 : The Massachusetts Supreme Judicial Court has ruled that an inquest into the death of Mary Jo Kopechne found in Senator Kennedy's car in a pond on Chappaquiddick Island on July 19th, 1969. will be held in secret, as requested by Sen. Edward M. Kennedy .
1974 : Muhammad Ali regains The Heavyweight Title by knocking out George Foreman in the eighth round during the fight billed as "Rumble In The Jungle"
1976 – Dr. Joseph H. Evans was elected president of the predominantly white United Church of Christ on this date in 1976, becoming their first Black leader.
1979 – Richard Arrington was elected as the first Black mayor of Birmingham, AL, on this date in 1979.  Arrington, a former councilman, defeated Frank Parsons, a white lawyer and businessman.
1981 : The secretary of the UK's pro-euthanasia group Exit Nicholas Reed is found guilty and jailed for two and a half years for aiding and abetting suicide.
1984 : Father Jerzy Popieluszko a Roman Catholic Priest and an outspoken supporter of the banned trade union Solidarity has been found murdered at the side of a road. The Priest was kidnapped 11 days earlier by three secret police and has never been seen since. Many fear that the murder could spark unrest but the leader of Solidarity, Lech Walesa has asked the Polish people to stay calm.
1986 – Ed Meese, attorney general in the Ronald Reagan administration, urges employers to begin spying on workers "in locker rooms, parking lots, shipping and mail room areas and even the nearby taverns" to try to catch them using drugs
1991 – Black Entertainment Television's parent company sold 4.2 million shares of stock on the New York Stock Exchange on this date in 1991.
1995 : A referendum for a mandate to negotiate independence of Quebec from Canada is narrowly defeated by (vote was 50.6% to 49.4%).
2008 : Italy – Protestors to the Education Reform proposed by Prime Minister Silvio Berlusconi have taken to the streets, protestors include teachers, students and parents over the proposed multi-billion-euro education cuts .
2012 : The "super-storm" Sandy hit the US East Coast creating a major disaster area in heavily populated areas like New York City and the coast of New Jersey. President Obama declared a major disaster in the state of New York. Even much of Lower Manhattan lost power.
birthdays
1735 – John Adams born
1837: Harriet Powers born (African American quilter; her quilts are in the Smithsonian Institution)
1939, Born on this day, Eddie Holland (Holland/Dozier/Holland), producer, songwriter, wrote Motown hits for Supremes, Four Tops, Marvin Gaye, Martha & The Vandellas, Freda Payne, Chairmen Of The Board.
1939, Born on this day, Grace Slick, vocals, Jefferson Airplane, Starship, (1967 US No.18 single 'White Rabbit', 1987 US & UK No.1 single 'Nothing's Gonna Stop Us Now').
1939, Born on this day, Otis Williams, The Temptations, (1971 US No.1 & UK No.8 single 'Just My Imagination' and re- issued 'My Girl' UK No.2 in 1992).
1945, Henry Winkler, a classically trained actor who will become best known for his role as one of the most popular TV characters of the 1970s—the leather-clad ladies man Arthur "Fonzie" Fonzarelli on the long-running sitcom Happy Days—is born in New York City. From 1974 to 1984, Winkler played "The Fonz," a motorcycle-riding auto mechanic whose catchphrases included "Heyyy" and "Sit on it" and who was considered by his many fans to be the epitome of cool.
deaths
1908 – Caroline Schermerhorn Astor, wife of William Waldorf Astor, the wealthy newspaper proprietor, dies at the age of 78.
2002, Jam Master Jay from Run-DMC was murdered by an assassin's single bullet at his recording studio in Queens, New York.
Sources: The People History; This Day in Labor History; Wikipedia List of Historical Anniversaries; This Day in Women's History; This Day in African History;History.com; History Orb; Yenoba; Selected Black Facts; Phil Konstantin's North American Indian History; and This Day in Music