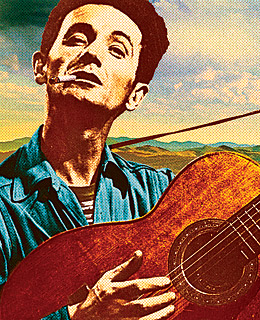 Podcast: Play in new window | Download
Subscribe: RSS
October 3, 2014 – Segment 1
Marc talks about what happened on this day in history, including the birthday of singer-songwriter Chubby Checker, the day singer-songwriter Woody Guthrie died, and the day the first Black radio station, WERD, began operating in Atlanta, GA.
BIRTHS
1900 – Thomas Wolfe, American author (d. 1938)1925 – Gore Vidal, American author, screenwriter, and actor (d. 2012)1936 – Steve Reich, American composer
1938 – Eddie Cochran, American singer-songwriter and guitarist (d. 1960)
1941 – Chubby Checker, American singer-songwriter
1951 – Keb' Mo', American singer-songwriter and guitarist
1954 – Al Sharpton, American minister, talk show host, and activist
1954 – Stevie Ray Vaughan, American singer-songwriter, guitarist, and producer (d. 1990)
1975 – India.Arie, American singer-songwriter and producer
1975 – Talib Kweli, American rapper (Black Star and Reflection Eternal)
DEATHS
1838 – Black Hawk, American tribal leader (b. 1767)1867 – Elias Howe, American inventor and engineer, invented the sewing machine (b. 1819)1873 – Kintpuash, American tribal leader (b. 1837)
1896 – William Morris, English author and poet (b. 1834)
1967 – Woody Guthrie, American singer-songwriter and guitarist (Almanac Singers) (b. 1912)
1969 – Skip James, American singer-songwriter and guitarist (b. 1902)
DAY IN HISTORY
1919 – Cincinnati Reds pitcher Adolfo Luque becomes the 1st Latin player to appear in a World Series.

1932 – Iraq gains independence from the United Kingdom.

1932 – The state militia is called in after 164 high school students in Kincaid, Ill., go on strike when the school board buys coal from the scab Peabody Coal Co. 

1935 – Second Italo-Abyssinian War: Italy invades Ethiopia under General de Bono. 

1945 – Pacific Greyhound Lines bus drivers in seven western states begin what is to become a 3-week strike, eventually settling for a 10.5-percent raise 

1949 – First Black radio station, WERD, begins operating in Atlanta, GA, 1949

1952 – The United Kingdom successfully tests a nuclear weapon to become the world's third nuclear power.

1955 – The Mickey Mouse Club debuts on ABC.

1956 – Nat King Cole was the first black performer to host his own tv show.

1957 – Allen Ginsberg's Howl and Other Poems is ruled not obscene. 

1970 – Baseball umpires strike for recognition of their newly-formed Major League Umpires Association, win after one day

1974 – Frank Robinson named manager of the Cleveland Indians and became the first Black manager in the major leagues.

1963 – Violent coup in Honduras pre-empts the October 13 election, ends period of reform, begins two decades of military rule. 

1981 – The Hunger Strike by Provisional Irish Republican Army and Irish National Liberation Army prisoners at the Maze Prison in Northern Ireland ends after seven months and ten deaths.  

1990 – Re-unification of Germany. The German Democratic Republic ceases to exist and its territory becomes part of the Federal Republic of Germany. East German citizens became part of the European Community, which later became the European Union. Now celebrated as German Unity Day.

1993 – Battle of Mogadishu: In an attempt to capture officials of warlord Mohamed Farrah Aidid's organisation in Mogadishu, Somalia, 18 US soldiers and about 1,000 Somalis are killed in heavy fighting.

1995 – O. J. Simpson is acquitted of the murders of Nicole Brown Simpson and Ronald Goldman.  

2008 – The Emergency Economic Stabilization Act of 2008 for the US financial system is signed by President Bush. 
Sources: The People History; This Day in Labor History; Wikipedia List of Historical Anniversaries; This Day in Women's History; This Day in African History;History.com; History Orb; Yenoba; Selected Black Facts; Phil Konstantin's North American Indian History; and This Day in Music