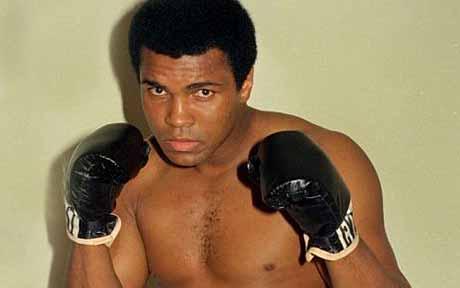 Podcast: Play in new window | Download
Subscribe: RSS
October 29, 2014 – Segment 1
Marc shares some of the events that happened on this day in history, including Benito Mussolini's appointment as Prime Minister of Italy, the 1929 New York Stock Exchange crash that launched the Great Depression, and Mohammad Ali, then known as Cassius Clay, winning his first professional fight.
539 BC – Cyrus the Great entered capital of Babylon and allowed the Jews toreturn to their land
969 – Byzantine troops occupy Antioch Syria.
1390 – First trial for witchcraft in Paris leading to the death of three people.
1787 – Mozart's opera Don Giovanni receives its first performance in Prague.
1792 – Mount Hood Oregon, is named after British Alexander Arthur Hood, who spotted the mountain near the mouth of the Willamette River.
1863 – 18 countries meet in Geneva and agree to form the International Red Cross
1886 – the first ticker tape parade takes place in New York City when office workers spontaneously throw ticker tape into the streets as the Statue of Liberty is dedicated.
1888 – The Convention of Constantinople is signed, guaranteeing free maritime passage through the Suez Canal during war and peace.
1901 – Jane Toppan is arrested for murdering the Davis family of Boston with an overdose of morphine
1901 – Leon Czolgosz. the assassin of  U.S. President William McKinley, is executed by electrocution.
1921 – The second trial of Sacco and Vanzetti in the United States of America
1921 – Harvard football team loses to Center College, ending a  game winning streak; considered one of the biggest upsets in college football
1922 – Benito Mussolini is appointed Prime Minister of Italy.
1923 – Turkey becomes a republic following the dissolution of the Ottoman Empire
1929 – The New York Stock Exchange crashes in what will be called "Black Tuesday", beginning the Great Depression. http://www.blacktuesday.org/
1940 – The United States begins its first peacetime military draft
1942 – Leading clergymen and political figures hold a public meeting to register outrage over Nazi Germany's persecution of Jews.
1944 – The Soviet Red Army enters Hungary.
1956 – Israeli forces invade the Sinai Peninsula and push Egyptian forces back toward the Suez Canal.
1957 – Israel's prime minister  David Ben Gurion and five of his ministers are injured when a hand grenade is tossed in the Knesset.
 1960 – Boxer Cassius Clay (later to be known as Mohammad Ali) wins his first professional fight.
1964 – A collection of irreplaceable gems, including the 565 carat Star if India, is stolen bya group of thieves from the American Museum of Natural Historyin New York City.
1966 – The New Organization for Women was founded.
1967 – London criminal Jack McVitte is murdered by the Kray twins, leading to their eventual imprisonment and downfall.
1969 – The United States Supreme Court decided in Alexander v. Holmes County Board of Education that "The obligation of every school district is to terminate dual school systems at once and to operate now and hereafter only unitary schools". In 1954's Brown v. Board of Education II, the Supreme Court had ordered that desegregation occur with "all deliberate speed". As a result, schools in the South were desegregating slowly if at all. The Alexander ruling stated that "all deliberate speed" was no longer permissible.
 1972 – The three surviving perpetrators of the Munich massacre are released from prison in exchage for the hostages of hijacked Lufthansa Flight 615.
1985 –    Major General Samuel K.Doe is announced the winner of the first multi party election in Liberia.
2004 – The Arabic-language news network Al Jazeera broadcasts an excerpt from a 2004 Osama bin Laden video in which the terrorist leader first admits direct responsibility for the September 11, 2001 attacks and references the 2004 U.S. presidential election.
2004 – Osama bin Laden, in a videotaped statement, directly admitted ordered the Sept. 11 attacks.
2012 – Hurrican Sandy hits the east coast of the United States.
2013 – Turkey opens a sea tunnel connecting Europe and Asia across theBosphorus Strait in Istanbul.
1745 – William Hayley, English poet, biographer, patron of the arts
1870 – Martha Minerva Franklin hall of fame nurse and founder of the National Association of Colored Graduate nurses, was born in New Milford Connecticut.
1884 – Fred Lazarus Jr, American merchandiser.
1891 – Fanny Brice, American actress and singer
1897 – Joseph Goebbels, Minister of propaganda for Nazi Germany
1925 –  Haim Hefer, Polish- Israeli songwriter an poet
1938 – Ellen Johnson-Sirleaf, President of the Republic of Liberia, as born in Monrovia, Liberia. Johnson-Sirleaf earned her bachelor's degree in accounting from the University of Wisconsin-Madison and in 1971 earned her Master of Public Administration degree from Harvard University's John F. Kennedy School of Government. From 1972 to 1973, she served as assistant minister of finance and from 1979 to 1980 as minister of finance for Liberia. As a result of disagreements with the government in power, Johnson-Sirleaf spent much of the 1980s and 1990s in exile. In 1996, she returned to Liberia and in 2005 was elected President of Liberia, the first female head of state in Africa. On November 5, 2007, Johnson-Sirleaf was presented the Presidential Medal of Freedom, the nation's highest civilian honor, by President George W. Bush. She has also received honorary Doctor of Law degrees from several universities, including Indiana University and Yale University. Johnson-Sirleafwas awarded the Nobel Peace Prize December 10, 2011 "for securing peace in Liberia, promoting economic and social development, and strengthening the position of women". She published her autobiography, "This Child Will Be Great: Memoir of a Remarkable Life by Africa's First Woman President," in 2009. In 2011, Johnson-Sirleaf was elected to a second five year term. (Wright.org)
1970 – Edwin van der Sar, Dutch Footballer
1973 – Vonetta Flowers, the first Black person to win a Gold medal at the Winter Olympic Games, was born in Birmingham, Alabama. Flowers went to the University of Alabama at Birmingham (UAB) on a track and field scholarship and earned her Bachelor of Science degree in physical education in 1995. She aspired to make the United States Summer Olympic team but after several failed attempts turned to making the Winter Olympic team as a bobsledder. At the 2002 Salt Lake City Winter Olympics, she won a Gold medal in the two-woman bobsledding event. Flowers also competed at the 2006 Turin Winter Olympic Games, finishing sixth in the event. She retired from competition after the games. Flowers published her autobiography, "Running On Ice: The Overcoming Faith of Vonetta Flowers," in 2005. She is currently an assistant track and field coach at UAB.
1974- Yenny Wahid, political activist and Indonesian Islamist.
1618 – Walter Raleigh, English admiral, explorer, and politician, Lieutenant Governor of Jersey
1650 – David Calderwood, Scottish historian and theologian
1829 – MMaria Anna Mozart, Austrian pianist (b. 1751)
1877 – Nathan Bedford Forrest, American general (b.1821)
1911 – Joseph Pulizer, Hungarian-American publisher, lawyer and politician, founded Pulitzer, Inc. (b. 1847)
1994 – Shlomo Goren, Israeli rabbi, general and scholar
2012 – Warsame Shire Awale, Somalian peot, playwright and songwriter (b.1951)