Podcast: Play in new window | Download
Subscribe: RSS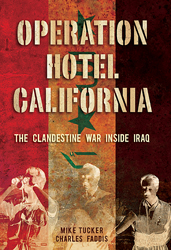 In July of 2002, 8 Americans crossed the Harburr River from Turkey into Kurdistan. Their mission? To strike and kill Al-Qaeda, and take down Saddam Hussein's Baathist dictatorship.
Charles "Sam" Faddis was the leader of that operation. In a new book written with Mike Tucker, he delivers a blistering indictment of the national security blunders made by the Bush administration-and for the first time, tells the story of that operation, which had profound consequences for the Iraq War. He joined Marc live in studio.
We also spoke with Baltimore Councilwoman Helen Holton, who is introducing a resolution to seek an update from the Baltimore City Police Department on the investigation into who killed former Councilman Ken Harris. Councilwoman Holton said that the council needs to regain a "sense of urgency" about the murder problem in Baltimore.
The Marc Steiner Show airs at 5 p.m. each Monday-Thursday, and you can be part of the show by calling (410) 319-8888 or emailing us at steinershow@gmail.com. We look forward to hearing your questions and ideas!