Podcast: Play in new window | Download
Subscribe: RSS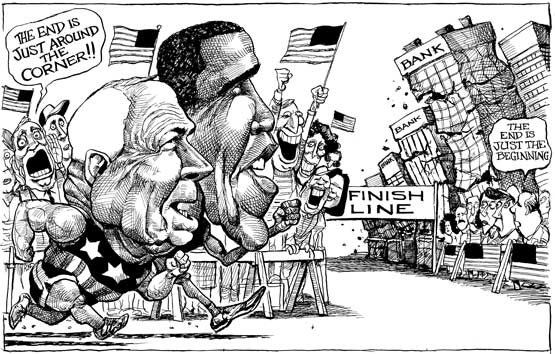 You may be tired of the 24/7 breaking news updates, the pandering and talking points, but one segment of the American public isn't tired of Campaign 2008.
The nation's hardworking comedians and comedy late-night television writers have found this election season to be a treasure trove of material.  Some of them are no doubt dreading the day when the election is over and they have to look elsewhere for fodder (with the exception of Tina Fey, who has said she cannot wait to stop doing Sarah Palin).
But what role does political comedy really play in shaping our feelings about candidates? Do our impressions of a candidate change after we see him or her mocked?  Does comedy have a liberal bias? Can a joke destroy a campaign?
On this show we discussed the role of political comedy with political cartoonist for The Economist Kevin "Kal" Kallaugher, local comedian Koli Tengella, and professor Dannagal Young.