Podcast: Play in new window | Download
Subscribe: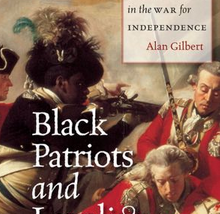 Dr. Lester Spence, Associate Professor of Political Science and Africana Studies at Johns Hopkins University, joins us tonight as a co-host on the show.
We sit down with Alan Gilbert, author of the book Patriots and Loyalists: Fighting for Emancipation in the War for Independence, and John Evans Profesor at the Josef Korbel School of International Studies at the University of Delaware. The book makes us rethink our understanding of the Revolutionary War through a look at the black soldiers that joined the British imperial forces to gain their freedom.