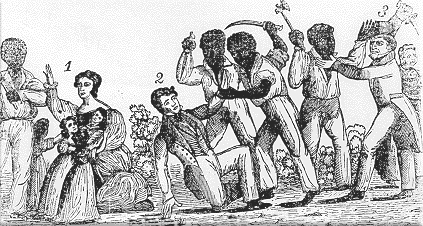 Podcast: Play in new window | Download
Subscribe: RSS
October 2, 2014 – Segment 1
Marc talks about what happened on this day in history, including the day President George Washington put the Bill of Rights forward for a vote, the day Dominican Republic dictator Rafael Trujillo ordered the execution of Haitians living within the borderlands, and the birthday of Nat Turner.
Independence day, celebrating Guinea's independence from France in 1958
International Day of Non-Violence, (international)
1187 – Siege of Jerusalem: Saladin captures Jerusalem after 88 years of Crusader rule.
1263 – The battle of Largs is fought between Norwegians and Scots.
1789 – George Washington puts forth the Bill of Rights for ratification by the States
1835 – The Texas Revolution begins with the Battle of Gonzales: Mexican soldiers and Texan militia face off in Gonzales, Texas after an attempt at disarmament by the Mexican soldiers.
1919 – U.S. President Woodrow Wilson suffers a massive stroke, leaving him partially paralyzed
1928 – The "Prelature of the Holy Cross and the Work of God", commonly known as Opus Dei, is founded by SaintJosemaria Escriva
1937 – Rafael Trujillo of the Dominican Republic, orders the execution of the Haitians living within the borderlands of the two nations. 20,000 people are killed over the next 5 days
1950 – Peanuts by Charles M Schulz is first published
1958 – Guinea declares its independence from France.
1959 – The Twilight Zone premieres on CBS television
1967 – Thurgood Marshall is sworn in as the first African-American justice of United States Supreme Court
1968 – President Gustavo Diaz Ordaz of Mexico orders soldiers to end peaceful student demonstrations in Mexico City, leading to the Tlatelolco Massacre.  30-300 students and civilians were killed by sodiers and police.  Students were protesting the government alongside poor farmers and laborers.  The Mexican government had invested the equivalent of $7.5billion US (present day) into the 1968 olympics whilst much of the country was not adequately able to provide for their own families.  An official tally of the dead and wounded has never been agreed upon.  The 1968 Olympics in Mexico went ahead as planned.
1970 – A plane carrying the Wichita State university football team, administrators and supporters crashes in Colorado, killing 31 people.
1979 – Pope John Paul II denounces all forms of concentration camps and torture while speaking at the U.N. in New York City.
1996 – The Electronic Freedom of Information Act Amendments are signed by U.S. President Bill Clinton.
2001 – NATO backs U.S. military strikes following 9/11
2006 – Five school girls are murdered by Charles Carl Roberts in a shooting at an Amish school in Nickel Mines, Pennsylvania, before Roberts commits suicide.
1452 – Richard III of England
1798 – Charles Albert of Sardinia
1800 – Nat Turner, American slave who led a slave rebellion
1824 – Henry C. Lord, American railroad executive
1868 – Mahatma Gandhi, Indian activist and philosopher
1890 – Groucho Marx, American comedian, actor and singer (d.1977)
1904 – Graham Greene, English author, playwright and critic (d. 1991)
1914 – Jack Parsons, American chemist occultist, and engineer
1944- Vernon Vinge, American computer scientist and author
1948 – Donna Karan, American fashion designer, founded DKNY
1949 – Annie Leibowitz, American photographer
1764 – William Cavendish, 4th Duke of Devonshire, English politician, Prime Minister of the United Kingdom
1780 – John Andre – English soldier, executed as a spy in America on this day
1803 – Samuel Adams, American politician, 4th Governor of Masschusetts (b. 1722)
1968 – Marcel Duchamp, French painter and sculptor (b.1887)