Podcast: Play in new window | Download
Subscribe: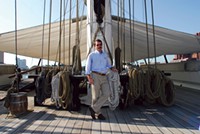 Ahoy mateys!  Today on the show we bring you a tour of the USS Constellation, an 18th century sailing ship built right here in Maryland.  It's now a floating museum, docked in the Inner Harbor.  Chris Rowsom is Director of Historic Ships for Baltimore, and he took us aboard to talk about the ship's history, its construction, and why it's so important to preserve the Constellation.
You can read more about The Constellation in Charles Cohen's article in this month's Urbanite Magazine.