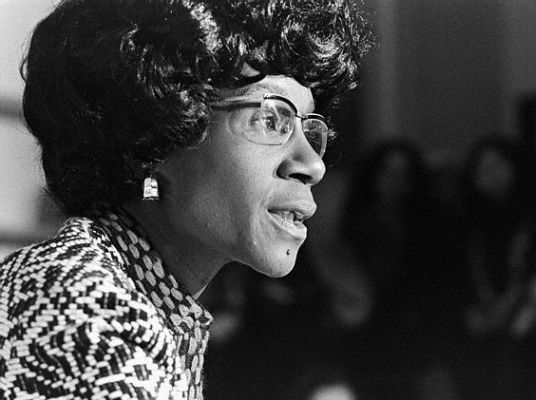 Podcast: Play in new window | Download
Subscribe: RSS
November 5, 2013 – Segment 1
Marc shares some of what happened on this day in history, including Shirley Chisholm being elected the first black woman in Congress, Guy Fawkes night, and the day that Nat Turner was tried and found guilty.
Holidays
Guy Fawkes Night celebrating the failed gunpowder plot of 1605 when there was an attempt to blow up the British houses of parliament. Since that time, Guy Fawkes day is celebrated by bonfires, fireworks and the burning of effigies called "guys" on the bonfire. ( Guy Fawkes was captured, confessed and was executed )
Events
1138 – Lý Anh Tông is enthroned as emperor of Vietnam at the age of two, beginning a 37-year reign.
1768: The Iroquois sell some land. According to many historians, the treaty signed at Fort Stanwix, near modern Rome, New York, causes such anguish among Indian tribes, it leads to Dunsmore's War. The treaty is signed at a meeting of several thousand Indians.
1831 – Nat Turner, revolutionary freedom-fighter and leader of a slave revolt in Southampton County, VA, was tried and found guilty for his participation in the revolt
1836 – Theo Wright became the first Black in the United States to receive a degree in Theology
1838 – The Federal Republic of Central America begins to disintegrate when Nicaragua separates from the Federation.
1841 – Madison Washington led slaves aboard the slave ship Creole in a successful revolt on this date in 1841.  They forced the captain and crew to take them to Nassau, Bahamas, where they were given asylum and gained their freedom.
1857: The Tonawanda Band of the Seneca sign a treaty (11 stat. 735)
1862 – American Indian Wars: In Minnesota, 303 Dakota warriors are found guilty of rape and murder of whites and are sentenced to hang. 38 are ultimately executed and the others reprieved..
1872: Election Day: Susan B. Anthony was among sixteen women attempting to vote in Rochester, New York; they were arrested and fined but refused to pay.
1872: Election Day: Sojourner Truth attempted to vote in Michigan, but was refused a ballot when she requested one.
1902 – The "Mad Mullah" and 17,000 troops are advancing on the British at Bohodle, Somaliland.
1916 – Everett, Wash., massacre, at least seven Wobblies killed, 50 wounded and an indeterminate number missing
1942 : The British win the Second Battle of El Alamein with the British Eighth Army headed by ( Monty ) Lieutenant-General Bernard Montgomery when the ( Afrika Korps ) commanded by Field Marshal Rommel ( Desert Fox ) are forced to surrender exhausted and dying from dehydration. In a famous speech a few days later Winston Churchill uses these well known lines "This is not the end, it is not even the beginning of the end. But it is, perhaps, the end of the beginning.".
1952 : General Dwight D Eisenhower wins the American presidential elections with the largest number of popular votes ever recorded for a presidential candidate.
1953 : It was revealed that Israel and Arab states were warned that the United States could not carry the financial burden of the Middle East forever. The cause of this burden was largely because of plans to develop the Jordan River, and to assist 800,000 Israeli refugees. The refugees were displaced as a result of the Palestine War.
1956, "The Nat King Cole Show" debuted on NBC-TV in America. The Cole program was the first of its kind hosted by an African-American.
1965 – Rhodesian Prime Minister, Ian Douglas Smith, declares a state of emergency.
1968 – Shirley Chisholm (NY) and Louis Stokes (OH) were elected to Congress on this date in 1968.  Chisholm, who represented Bedford-Stuyvesant, Brooklyn, became the first Black woman in Congress.  Louis Stokes is the brother of Carl Stokes, a Cleveland mayor.
1969 – South African Springbok rugby tour in UK is disrupted by anti-apartheid demonstration.
1974 – Mervyn M. Dymally and George L. Brown were elected Lieutenant Governors of California and Colorado respectively on this date in 1974.  They were the first Black Lieutenant Governors of the 20th century.
1974, Ella T. Grasso elected Governor of Connecticut. She began her first term in 1975, and was elected to a second term in 1978. Contrary to popular belief, she was not the first elected woman to serve as governor of a U.S. state; however, Grasso was the first woman who was elected governor "in her own right", i.e. without being the wife or widow of a past governor.
1977, The manager of the Virgin record store in Nottingham, England was arrested for displaying a large poster advertising the new Sex Pistols album, 'Never Mind The Bollock's, Here's The Sex Pistols'. High street stores banned the album after police warned they could be fined under the 1898 indecent advertising act.
1978 : Iran's Prime Minister Jaffer Sharif-Emami resigns after two days of virtual mob rule.
1978 : Nicaragua – The ruling Sandinista Front who took power during the revolution 5 years ago have won in the first elections in the country. The FSLN led by Daniel Ortega has said he has won with over 70% of the popular vote.
1986 – State Senator Lawrence Douglass Wilder was elected Lieutenant Governor of Virginia on this date in 1986-the first Black to hold this position in a Southern state since Reconstruction.  Douglass was elected Governor of Virginia in 1989.
1987 – Lieutenant General Colin Powell was named White House National Security Adviser on this date
1988, 'The Locomotion', became the first song to reach the US Top 5 in three different versions, when Kylie Minogue's reached No.3 on the US chart. Written by American songwriters Gerry Goffin and Carole King, the song is notable for appearing in the American Top 5 three times – each time in a different decade: for Little Eva in 1962 and for Grand Funk Railroad in 1974.
1990 – The Freedom National Bank in Harlem, NY, closed on this date in 1990.  The bank, a major depository for wealthy Blacks and many Black groups, might well have fallen victim to a double standard by federal regulators.
1994 : George Forman becomes the oldest Boxing Heavyweight Champion of the world .
1996 : Bill Clinton wins his second term with a landslide victory and became the first Democrat to win back to back victories in 50 years.
2006 : Saddam Hussein been been convicted of crimes against humanity and sentenced to death by hanging in the al-Dujail trial for his role in the massacre of the 148 Shi'as in 1982
2007 – Some 12,000 television and movie writers begin what was to become a 3-month strike against producers over demands for an increase in pay for movies and television shows released on DVD and for a bigger share of the revenue from work delivered over the Internet
2008 : Dmitry Medvedev announces that Russia will be placing short-range conventional warhead missiles in Kaliningrad as a counter to the United States missile defense facilities in Poland and the Czech Republic.
2009 : The White House Tribal Nations Conference at the Department of the Interior will have opening and closing remarks from the President, and discussions on everything from the jobs market to energy, housing and health care. His participation in the conference is said to be part of his outreach to the American people, and will be attended by the leaders of the 564 federally recognized tribes. These will have the opportunity to interact directly with the President and his Administration. The tribes have been invited to send one representative to the conference. This is the first annual White House Tribal Nations Conference.
2009 – US Army Major Nidal Malik Hasan murders 13 and wounds 29 at Fort Hood, Texas in the deadliest mass shooting at a US military installation.
Birthdays
1807: Eliza Chappell Porter born – the first public school teacher in Chicago, at Fort Dearborn. She established normal schools, educated settlers and American Indians at Mackinac Island, aided the wounded during the American Civil War as a member of the U.S. Sanitary Commission, participated in the Underground Railroad, and taught freedmen.
1834: Anna Leonowens born (writer; Anna and the King of Siam is based on her life in Thailand)
1850 – Ella Wheeler Wilcox was an American author and poet born on this day. Her best-known work was Poems of Passion. Her most enduring work was "Solitude", which contains the lines: "Laugh, and the world laughs with you; Weep, and you weep alone"
1855 – Eugene V. Debs, labor leader, socialist, three-time candidate for president and first president of the American Railway Union, born
1857 – Ida Minerva Tarbell was an American teacher, author and journalist born on this day. She was one of the leading "muckrakers" of the progressive era. She wrote many notable magazine series and biographies.
1879: Hanna Jane Patterson born (reformer: suffrage; in 1917, she was appointed by President Woodrow Wilson as a member of the Woman's Committee of the Council of National Defense; awarded Distinguished Service Medal)
1911 – ROY ROGERS (1911-1998) Singer and actor who acted in more than one hundred movies, as well as on The Roy Rogers Show.
1923 – Mary Dent Crisp born, an American Republican leader who was ousted in 1980 for supporting feminism and abortion
1931, Born on this day, Ike Turner, singer, (1966 UK No.3 single with Tina Turner, 'River Deep Mountain High', 1971 US No.4 single 'Proud Mary').
1941, Born on this day, Art Garfunkel, singer, actor, (1970 UK & US No.1 single with Simon and Garfunkel 'Bridge Over Trouble Water', 1970 album 'Bridge Over Trouble Water' spent 307 weeks on the UK chart), solo, 1979 UK No.1 single 'Bright Eyes')
1943, Born on this day, Pablo Gomez, Los Bravos, (1966 UK No.2 & US No.4 single 'Black Is Black'). First Spanish rock band to have a UK & US hit single.
Deaths
1921: Antoinette Brown Blackwell died,  the first woman to be ordained as a minister in the United States.
1960, Country & western singer Johnny Horton was killed in a car crash. He had the 1959 US No.1 & UK No.16 single 'The Battle Of New Orleans'.
1967, Bee Gee Robin Gibb was a passenger on a train which crashed in South East London in England killing 49 people and injuring 78. Robin was treated for shock after the accident.
2005, Guitarist Link Wray died aged 76. Wray was credited with inventing 'fuzz' guitar after punching a hole in a speaker giving him a distorted guitar sound. Famous for his 1958 US No.16 single 'Rumble' which was banned on several radio stations, on the grounds that it glorified juvenile delinquency. A rare feat for a song with no lyrics.
Sources: The People History; Wikipedia List of Historical Anniversaries; This Day in Women's History; This Day in Jewish History; This Day in African History;History.com; History Orb; Yenoba; Phil Konstantin's North American Indian History; and This Day in Music