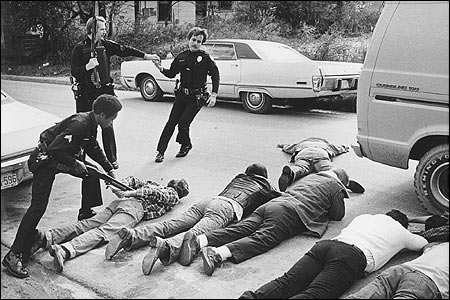 Podcast: Play in new window | Download
Subscribe: RSS
November 3, 2014 – Segment 1
Marc shares some of the events that happened on this day in history, including the 1979 Greensboro Massacre, when five members of the Communist Workers Party were shot by a group of Klansmen and neo-Nazis during  a "Death to the Klan" rally, John Willis Menard becoming the first African American elected to the US Congress, and the death of Annie Oakley.
Independence Day/ Separation Day, celebrates the separation and independence of Panama from Colombia in 1903.
Independence Day, Celebrating the independence of Dominica from the United Kingdom in 1978
Independence day, celebrating the independence of the Federated States of Micronesia from the United States in 1986
644 – Umar ibn al-Khattab,, the second Muslim aliph, is assassinated by a Persian slave in Medina
1492 – Peace of Etaples between Henry VII and Charles VIII.  Charles VIII promises the English King that the would no longer give any assistance to  pretenders to the English throne.
1493 – Christopher Columbus first sights the island of Dominica in the Caribbean Sea
1793 – Olympe de Gouges, French playwright, activist, abolitionist and feminist is found guilty of treason and guillotined.  De Gouges wrote manifestos, petitions and pamphlets on animal welfare, ending the death penalty, poverty, the treatment of orphans and ending slavery.  Her most famous pamphlet is her 'Declaration of the rights of Woman and the Citizen'.  She was condemned as a counter revolutionary and denounced as an "unnatural" woman
1817 – The Bank of Montreal, Canada's oldest chartered bank opens in Montreal, Quebec.
1868 – John Willis Menard was the first African American elected to the United States Congress.  Because of an electoral challenge, he was never seated. He worked in the US department of interior and was sent to BritishHonduras to see after a proposed colony for previously enslaved Africans.  He moved to New Orleans, Louisiana and in 1868 was elected to congress to fill an unexpired term. He was ultimately denied the seat after a challenge by the loser.  During this process he became the first African American to address the US House of Representatives.
1883 – Self-described "Black Bart the poet" gets away with his last stage coach robbery, but leaves a clue that eventually leads to his capture.
1911 – Chevrolet officially enters the automobile market in competition with the Ford Model T.
1918 – Poland declare its independence from Russia.  The Poles announce the establishment of the Polish Republic in Warsaw on November 3rd and the new government fell under the control of General joseph Pilsudski, who returned from prison in Germany on November 10th.
1954 – The first Godzilla film is released and marks the first appearance of the character of the same name.
1957 – The Soviet union launches Sputnik 2. On board is the first animal to enter orbit, a dig baned Laika.
1967 – Vietnam War: The Battle of Dak To begins
1969 – U.S. President Richard Nixon addresses the nation on television and radio, asking the "silent majority" to join him in solidarity on the Vietnam War effort and to support his policies.
1970 – Bella Abzug, liberal activist,  politician, co-fonder of the National Women's Political Caucus, is elected to U.S. Congress.  Abzug is especially known for her work for women's rights.
1979 – Greensboro Massacre: Five members of the Communist Workers Party are shot and seven are wounded by a group of Klansmen and neo-Nazis during  a "Death to the Klan" rally in Greensboro North Carolina.  They were killed by members of the Ku Klux Klan and the American Nazi Party.  The protest was a culmination of attempts by the Communist Workers' Party to organize black industrial workers in the area.  http://library.uncg.edu/dp/crg/topicalessays/greensmassacre.aspx
1986 – The Lebanese magazine Ash-Shiraa reports that  the United States hasbeen secretly selling weapons to Iran in order to secure the release of seven American hostages.
1558 – Thomas Kyd, English author and playwright, baptized in the church of St Mary Woolnoth in London.
1757 – Robert Smith American solider, lawyer and politician, 6th US Secretary of State, born on this day in Lancaster, Pennsylvania (d. 1842, Baltimore, Maryland).
1815 – John Mitchel, Irish journalist and activist
1816 – John Jones, businessman and civil rights activist was born in Greene County, North Carolina.  Jones moved to Chicago and opened a tailoring shop.  His business thrived and he invested in real estate.  By 1860 he was one of the wealthiest African Americans in the nation.  He was also a civil right activist and a leader in the fight to repeal Illinois' Black laws.  In 1871, Jones was elected the first Black Cook County Commissioner.
1883 -John Baxter Taylor, Jr., the first African American to win an Olympic Gold medal  was born in Washington D.C., but raised in Philadelphia, Pennsylvania
1890 – Harry Stephen Keeler, American author, born in Chicago, Illinois.
1900 – Adolf Dassler, German businessman founded adidas
1905 – Lois Mailou Jones, artist and educator, was born in Boston, Massachusetts. Jones began painting as a child and had shows of her work while in high school. In 1927, she became one of the first African American graduates of the School of the Museum of Art.  . The exhibition "Lois MailouJones: a life in vibrant color," which included 70 paintings, showcased her various styles and experiences in America, France, Haiti, and Africa. Jones received honorary Doctorate of Humane Letters degrees from Suffolk University, Massachusetts College of Art, and Howard University and was elected a Fellow of The Royal Society of Art in London. .
1915 – Harold Baron Jackson, hall of fame radio personality and disc jockey was born in Charleston, South Carolina.
1949 – Larry Holmes, hall of fame boxer and entrepreneur, was born in Cuthbert, Georgia
1949 – Anna Wintour, English-American journalist
1970 – Jeanette Jo Epps, NASA astronaut, was born in Syracuse, New York.
1949 – Solomon R. Guggenheim, American art collector and philanthropist, founded the Solomon R, Guggenheim Museum
1954 – Henri Matisse, French painter and sculptor
1975 – Tajuddin Ahmad, Bangladeshi politician, 1st Prime Minister of Bangladesh
1975 – Muhammad Mansur Ali, Bangladeshi politician, 3rd Prime Minister of Bangladesh
1975 – Syed Nazrul Islam, Bangladeshi lawyer and politician, President of Bangladesh
1975 – AAbul Hasnat Muhammad Qamaruzzaman, Bangladeshi lawyer and politician
1994 – Alvin Andreas Herborg Nielsen, American Physicist, (b. 1910)
1996 — Jean-Bedel Bokassa, African general and politician, 2nd President of the Central African Republic (b. 1921)
1998 – Bob Kane, American author and illustrator, co-created Batman (b.1915)
2007 – Ryan Shay, American runner (b. 1913)
2013 – D. Rajendra Babu, Indian director and screenwriter (b. 1951)
2013 – Nick Cardy, American illustrator (b. 1920)
Sources: The People History; This Day in Labor History; Wikipedia List of Historical Anniversaries; This Day in Women's History; This Day in African History;History.com; History Orb; Yenoba; Selected Black Facts; Phil Konstantin's North American Indian History; and This Day in Music