Podcast: Play in new window | Download
Subscribe: RSS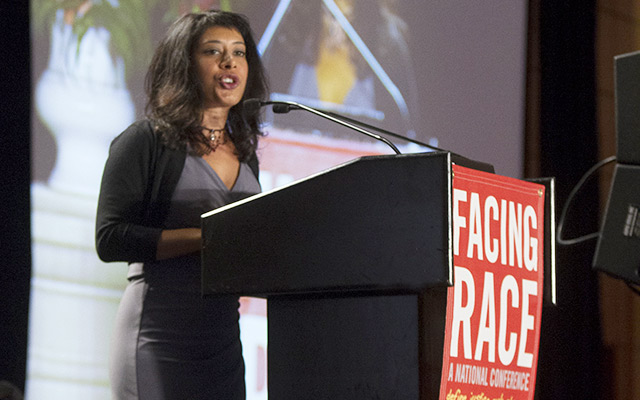 This week on Beyond the Spin, we visit the Facing Race Conference, a national conference held in Baltimore earlier this month. Hosted by ARC (Applied Research Center), the three day event served as a platform for racial justice leaders, educators, and artists. We'll listen to selections from plenaries on gender and culture, and hear from various participants from across the nation including,
Rinku Sen, ARC president and Colorlines.com publisher;
Dayvon Love, Leaders of a Beautiful Struggle president;
Sarah Tooley, OSI fellow and member of Baltimore Racial Justice Action;
Jesus Barraza, printmaker and member of Dignidad Rebelde;
Negin Farsad, comedian, filmmaker and director of the upcoming documentary "The Muslims Are Coming!";
Jeff Chang, Executive Director of the Institute for Diversity in the Arts at Stanford University, and author of Can't Stop Won't Stop: A History of the Hip Hop Generation;
Jose Antonio Vargas, multimedia journalist and founder of Define American;
Maya Wiley, Founder and President of the Center for Social Inclusion;
Jessica Gonzalez-Rojas, Executive Director at the National Latina Institute for Reproductive Health;
Michael Omi, Associate Professor of Asian American Studies in the Ethnic Studies Department at the University of California, Berkeley;
Janet Mock, writer and Staff Editor at People.com;
Maegan Ortiz, independent journalist and media maker whose work is featured on lamamitamala.com and in the book Don't Leave Your Friends Behind: Concrete Ways to Support Families in Social Justice Movements and Communities;
Christian Sundquist, Professor of Law at the Albany Law School
Co-hosted by Beyond the Spin producer, Stefanie Mavronis.