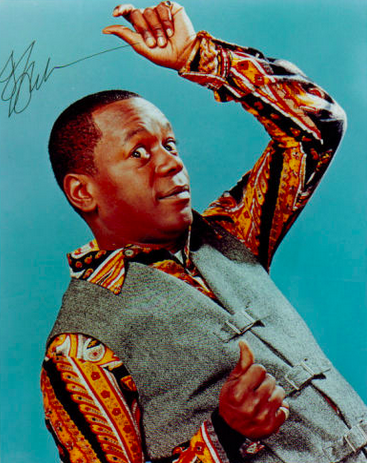 Podcast: Play in new window | Download
Subscribe: RSS
November 25, 2014 – Segment 1
Marc talks about what happened on this day in history, including the day comedian and actor Flip Wilson died, the day a group of Confederate operatives called the Confederate Army of Manhattan started fires in more than 20 locations in an unsuccessful attempt to burn down New York City, and the day Joe Gans, the first American born African American to win a world boxing championship, was born in Baltimore, Maryland.
Today is,
–Independence Day celebrates the independence of Suriname from the Netherlands in 1975
–International Day for the Elimination of Violence against Women, International
–National Day, Bosnia and Herzegovina
–Vajiravudh Day, Thailand
–Evacuation Day, 19th century New York City
On this day,
1120 – The White Ship sinks in the English Channel, drowning William Adelin, son and heir of Henry I of England.
1487 – Elizabeth of York is crowned Queen of England
1491 – The siege of Granada, the last Moorish stronghold in Spain, begins
1759 – An earthquake hits the Mediterranean destroying Beirut and Damascus and killing 30,000-40,000
1864 – A group of Confederate operatives called the Confederate Army of Manhattan starts fires in more than 20 locations in more than 20 locations in an unsuccessful attempt to burn down New York City.  http://www.gothamcenter.org/blotter/?p=333
1883 – Some 10,000 New Orleans workers, black and white, participate in a solidarity parade of unions comprising the Central Trades and Labor Assembly.  The parade was so successful it was repeated the following two years.  (AFT-Maryland)
1894 – A group of nineteen Hopi "hostiles' are placed under arrest by the army for interfering with "friendly" Hopi Indian activities on their Arizona reservation.  The nineteen prisoner will be held in Alcatraz prison in California from January 3, 1895 to August 7, 1895.
1943 – Statehood of Bosnia Herzegovina is re-established at the State Anti-Fascist Council for the Peoples Liberation of Bosnia Herzegovina.
1946 – Teachers from St. Paul, Minnesota,  led mostly by women, walked out of their classrooms in America's first organized teachers' strike.  1,165 teachers and principal (all represented by the same union) remained out until Dec.27in what they called the "strike for better schools."
1952 – Agatha Christie's murder mystery play The Mousetrap opens at the Ambassadors Theatre in London.  It will become the longest continuously-running play in history.
1958 – French Sudan gains autonomy as a self-governing member of the French Community.
1970 – Author Yukio Mishima and his comrade commit seppuku after an unsuccessful coup attempt.
1986 – President Ronald Reagan and Attorney General Edwin Meese reveal that profits from secret arms sales to Iran had been diverted to Nicaraguan rebels.
1999 – The United Nations establishes The International Day for the Elimination of Violence against Women to commemorate the murder of the Mirabal sisters.
1999 – Six-year-old Elian Gonzalez was rescued by a pair of sport fisherman off the coast of Florida.
2008 – Football player Michael Vick pleaded guilty to a Virginian dog fighting charge and received a three-year suspended sentence.
Births
1753 – Robert Townsend a.k.a.  "Culper, Jr.", American revolutionary spy (d.1838)
1835 – Andrew Carnegie, Scottish-American businessman and philanthropist (d.1919)
1846 – Carrie Nation, American temperance worker, she was a proponent of using vandalism to get her point across and was famous for using a hatchet to destroy saloons. (d.1911)
1865 – Catherine "Kate" Gleason, American engineer, businesswoman and philanthropist, first woman admitted to full membership in the American Society of Mechanical Engineers, helped start eight companies including a construction company and her own Ingle Machining Company (d.1933)
1893 – Joseph Krutch, American naturalist and author (d.1970)
1903 – William DeHart Hubbard, hall of fame track and field athlete and the first African American to win an Olympic Gold medal in an individual event was born in Cincinnati, Ohio.
1912 – John Herman Henry Sengstacke, newspaper publisher was born in Savannah, Georgia.  As a youngster,Sengstacke worked for the Woodville Times, a newspaper owned by his grandfather. After graduating from Hampton Institute in 1934, Sengstacke became vice president and general manager of The Robert S. Abbott Publishing Company which published the Chicago Defender. In 1940, he took over the company. Amongst many other issues,Sengstacke worked to have African American reporters in the White House, to create jobs in the United States Postal Service for African Americans, and to desegregate the armed forces. He was appointed by President Harry S. Truman to the commission formed to integrate the military. Sengstacke founded the National Newspaper Publishers Association to unify and strengthen African American owned newspapers and served seven terms as president.(thewright.org)
1913 – Lewis Thomas, American physician and essayist (d.1993)
1914 – Joe DiMaggio, American baseball player (d.1999)
1945 – Stanley Bongani Nkosi, SA artist, is born in Newcastle, Natal, South Africa
Deaths
1034 – Malcolm II of Scotland, (b.954)
1916 – Inez Milholland, labor lawyer, suffragist, WWI correspondent and orator; she is known for leading the Woman Suffrage Parade of 1913 on a white horse (b. 1866)
1987 – Harold Lee Washington, the first and only African American Mayor of Chicago, Illinois, died.