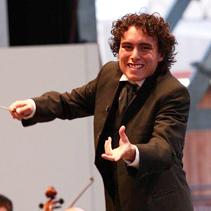 For the first segment of this hour, Marc continues his interview with award winning author, Tracy Kidder.
For the second segment of this hour, Marc speaks with 16-year old Venezuelan conductor, Ilyich Rivas, who is in Baltimore for a
fellowship at The Peabody Institute.  In this interview, we talk with him
and his father Alejandro, also a conductor, about his musical training,
plans for the future, and other interests, as well.  Read more about Ilyich and Alejandro in the November issue of Urbanite Magazine.