Podcast: Play in new window | Download
Subscribe: RSS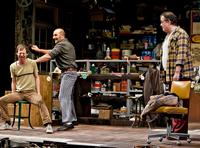 The three actors from the Center Stage production of David Mamet's gritty play American Buffalo join Marc in the studio.  Notable for Mamet's trademark lightning-fast, profane banter, the play follows a trio of men as they plot to steal a valuable coin collection from a wealthy collector.
Joining us are:
William Hill, who plays Don
Rusty Ross, who plays Bob
Jordan Lage, who plays Teach
American Buffalo runs at Center Stage from Nov 2–Dec 11.  For more information and tickets, call 410.332.0033 or click here.