Podcast: Play in new window | Download
Subscribe: RSS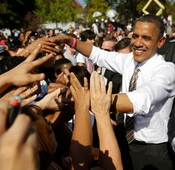 We bring you a new episode of Beyond the Spin. Mark Trahant, an independent print and broadcast journalist, joins us for a discussion of the roles Native Americans played in the 2012 elections.
Then, we discuss how the election played out in Pennsylvania, once considered a swing state. We'll speak with Alison Hirsch, the founding general manager of WXPI in Williamsport and a field organizer with the Obama campaign; and Arnold Prehn, general manager for WFTE in Moscow, Pennsylvania.
We wrap up the show with a conversation about the ballot initiatives in Colorado and Washington that legalized the recreational use of marijuana. We're joined by Douglass Hiatt, co-founder of and attorney for Sensible Washington; and Maeve Conran, Co-Director of News and Public Affairs at KGNU Community Radio.