Podcast: Play in new window | Download
Subscribe: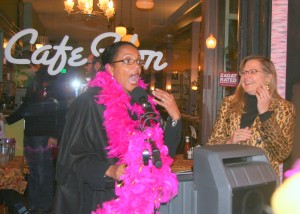 In our second hour, we continue our commentary on the latest developments in the Dixon Trial. Tonight's panel included:
Sherrilyn Ifill, Civil Rights Lawyer and Professor of Law at the University of Maryland School of Law was unable to join us due to car trouble.
Our promo image for this hour was taken from Fern Shen's article today at the Baltimore Brew, "The night before her case goes to a jury, Dixon welcomes back the Hon flamingo."