Podcast: Play in new window | Download
Subscribe: RSS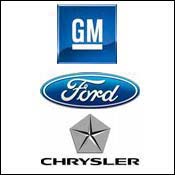 Executives from GM, Chrysler, and Ford visited Capitol Hill today to beg for a bailout of their own.
They faced strong criticism from Congressman Spencer Bachus, who mirrored the sentiments of many when he said, "My constituents do not understand why their tax dollars should go to support what they consider less efficient businesses."
Are the American auto companies just too big to fail? What would happen to the U.S. economy if they did fail? What can be done to make the best out of a bad situation?
Our panel today included:
Lester Spence, Professor of Political Science at Johns Hopkins University
Bala Submaranian, professor of Economics at Morgan State University
Sarah Hubbard, Vice President of Government Relations for the Detroit Regional Chamber of Commerce.